Candy Cane Stitch Pattern for Any Loom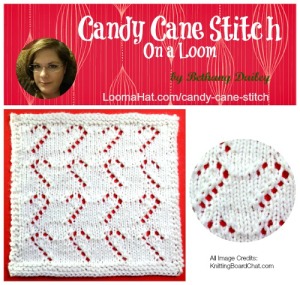 She done did it again ! Bethany Dailey, author of "Loom Knitting for Little People " one of my Top 10 Favorite books,  has created a super cute stitch. This one is right on time for the Christmas holiday. They're Candy Canes line dancing on your knitted gear.
The complete Candy Cane Stitch pattern on the KnittingBoardChat.com blog  results in an 8X8 square great for afghans, blankets, dishcloths or washcloths. But you can isolate the Candy Cane Stitch pattern and use it for any project. I've already made a list of all the cute stuff that is in desperate need of some spunky candy canes like hats, scarves, mittens, a sweater, knitted gift bag or even a great table runner. Looking for some Bling ?  Add a gold bead or a tiny bow to each one. Sky's the limit on what you can work these little guys into.