Yarn Giveaway September 2014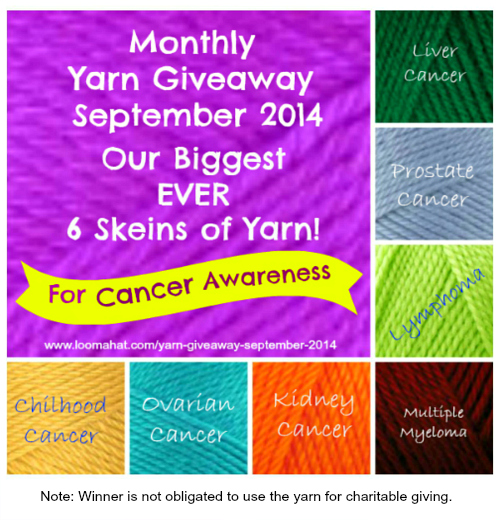 This months prize is Six Skeins of Yarn! Our biggest yarn give-away this year.  I want to make it memorable and I want to do that in more ways than one. By educating my readers and at the same time encouraging the winner to use the yarn for a great cause, Cancer Awareness.
The prize will include 6 skeins of yarn in various Cancer Awareness ribbon colors. It will be a mixed lot with different brands of soft yarn.  I hope you take part and have fun. Tell us your favorite charity and their website address for more raffle entries.  Remember to read the terms and conditions.
Please Share this Link. This one is More Than Just a Give-away.
.
VERY IMPORTANT: The winner Does Not have to use the yarn for Cancer or Any other charity.
Scroll down to the bottom of the page to enter The Yarn Giveaway September 2014.