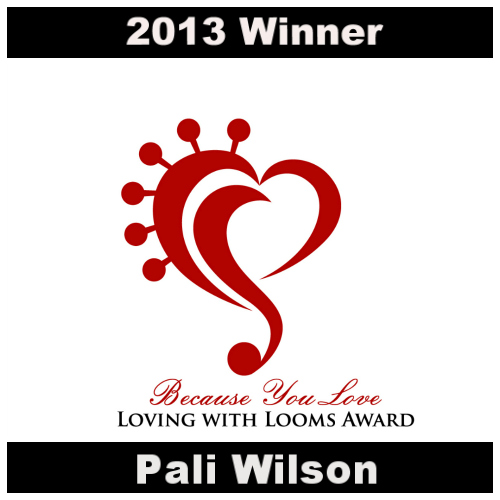 I congratulate all nominees. Everyone of you makes this world a brighter, warmer and more beautiful place. I thank you on behalf of all your recipients, their family and friends. The pouring of support displayed here shows how proud everyone feels of your hard work and love.
I am proud to announce this years Loving with Looms winner. I nominated Pali Wilson because I believed in her work and that of Knitting Rays of Hope. My nomination accounted for only one vote all others came from friends, family, and the parents of many of the recipients. I want to reiterate that I don't personally know Pali and that her gain is hers alone. I am not a member of Knitting Rays of Hope but I am a fan.
I have learned a lot from this experience, above all that good people should be recognized and rewarded regardless of ugly or negative feedback. I am happy that I now know about more loomers doing great things for those in need. I have also come to terms with the fact that it will be best if next year I stay away from nominating and voting for any of the nominees to make sure that nothing is taken away from these awesome people and the extremely important work they do. The rules will change a bit. More importantly, God willing the tally will be automated and therefore no delays or too many feelings of distrust. It's noted that you can't make all of the people happy all of the time so I must be content with doing my best.
I hope to see you all here again in 2014 for an opportunity to show our love for someone Loving with Looms.
denise
Loving with Looms Namination Count
Thank YOU - Thank YOU for voting.