Figure 8 Stitch on a Circular Knitting Loom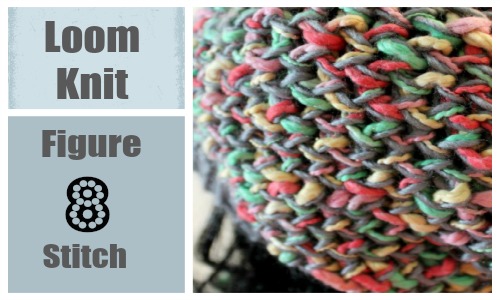 Warning, this stitch is addictive. It looks good, knits up very fast and it's like an all-weather fabric. I promise that it is such an easy technique that at first seems a bit confusing. But I have broken down each step with  words, pictures and video. There is NO reason you can't learn how to do the Figure 8 stitch. You can whip up any project quickly. Although it's a lacy stitch to warm it up, use a small gauge loom and add some chunky yarn. See the picture above. That's a warm slouchy And so is the matching cowl. I made them both in  just a few hours!
Try it, I promise you'll like it.
Para español: Haz clic AQUÍ
The Pattern – Step by Step Instructions
Take your time going through each step. Read one at a time then I suggest watching the video from start to finish before starting the stitch. Once you get it , you'll run through it like clock work.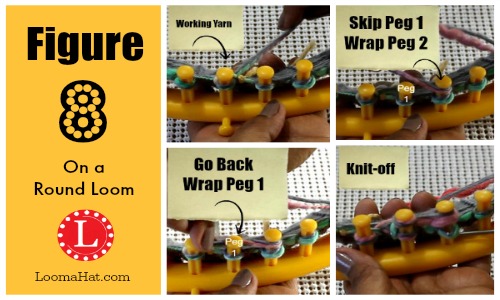 Find the Working Yarn
The Next Peg is Peg 1
Skip that Peg
The Peg Next to it is Peg 2. Wrap that Peg
Go Back Wrap Peg 1
Knit- Off
That's It – YOUR DONE.  – Repeat as Needed
The Video
.
As always I suggest watching the video completely before starting on your project. It's a short video but it has all the information you need to get the job done. Plus if you didn't get it the first time there is always that rewind option. If you still have questions, want to give me some advise or just to say hello you can do so in the comment section below.
Note that the video is a clip of an upcoming FREE Pattern, The Slub Yarn Slouchy and the matching cowl so stay tuned for that.
To See More Stitch Patterns: Click HERE
To Subscribe to my YouTube Channel Click HERE
Don't You Agree? This stitch really is addictive. One more – It's Therapeutic !
.

====================================================================
Tagged: figure 8, figure eight, stitch, stitches