Loom Knit Dolls – Easy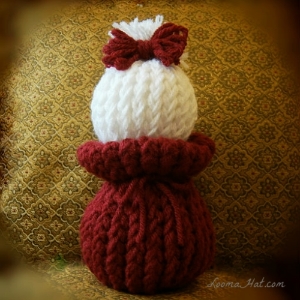 I looked for a guide on how to loom knit a doll. I wanted to make some for my Operation Christmas Child shoe boxes and Reliefshare.org. During my internet quest I found A LOT on how to crochet all kinds of patterns for knitted dolls. Well, I don't know how to crochet so I didn't need any of those patterns.  But by the grace of God I woke up on a Saturday at 6 am with all the instructions in my head.  The end product is a video on YouTube and what I hope is an easy picture tutorial below.
My cutie: The Ball Dolly. .. is precious to me.
She is easy to assemble but you must have 2 preemie loom knit hats which are easy to make.
If you don't know how to make a preemie hat scroll down to the bottom of the article for a video tutorial.
For a 24 picture and text tutorial on how to loom knit a doll go the end of this article.
DOLLY VIDEO TUTORIAL AT THE END OF ARTICLE: If you don't know how to make a Preemie Hat Scroll Down to the Bottom of This Article for an easy to follow video tutorial or Click Here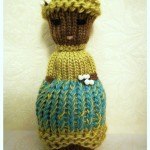 Another Loom Knit Doll is this
"Little Lady" comfort doll.
For a Free Pattern: Click Here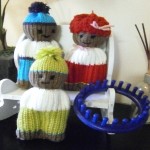 Another Loom Knit Doll is this
"Little Dude and Friends" comfort dolls
For the Easy Free Pattern: Click Here
So let's get started on the Ball Dolly! Please follow the pictures from left to right, the written instructions can be found under each college. If you get stuck on one part of the project… feel free to return to that spot as many times as is necessary, you can leave your questions or comments below.
.



.
 Supplies Needed: Two Loom Knit Preemie Hats,  Poly-Fil,  Extra Yarn Strings,   Scissors
---
TO PURCHASE THE DOWNLOADABLE PATTERN: CLICK HERE
Consider Joining Patreon . For as little as $2 get all patterns posted each month. With a higher $5 pledge you also get a mothly downloadable video so that you don't need to be online to create your project.
To join Patreon: Click HERE
Part 1 of Picture Tutorial


Instructions:
Get two preemie hats
Optional: You can have the larger bottom have a brim for decorative purposes
Stuff head with poly-fil
Tie the head closed
Stuff the bottom with poly-fil
Push the head (top) into the body (bottom)
Tie the two around the neck just to help you stabilize your work
Thread your needle
Push needle in the neck to start sewing
Part 2 of Picture Tutorial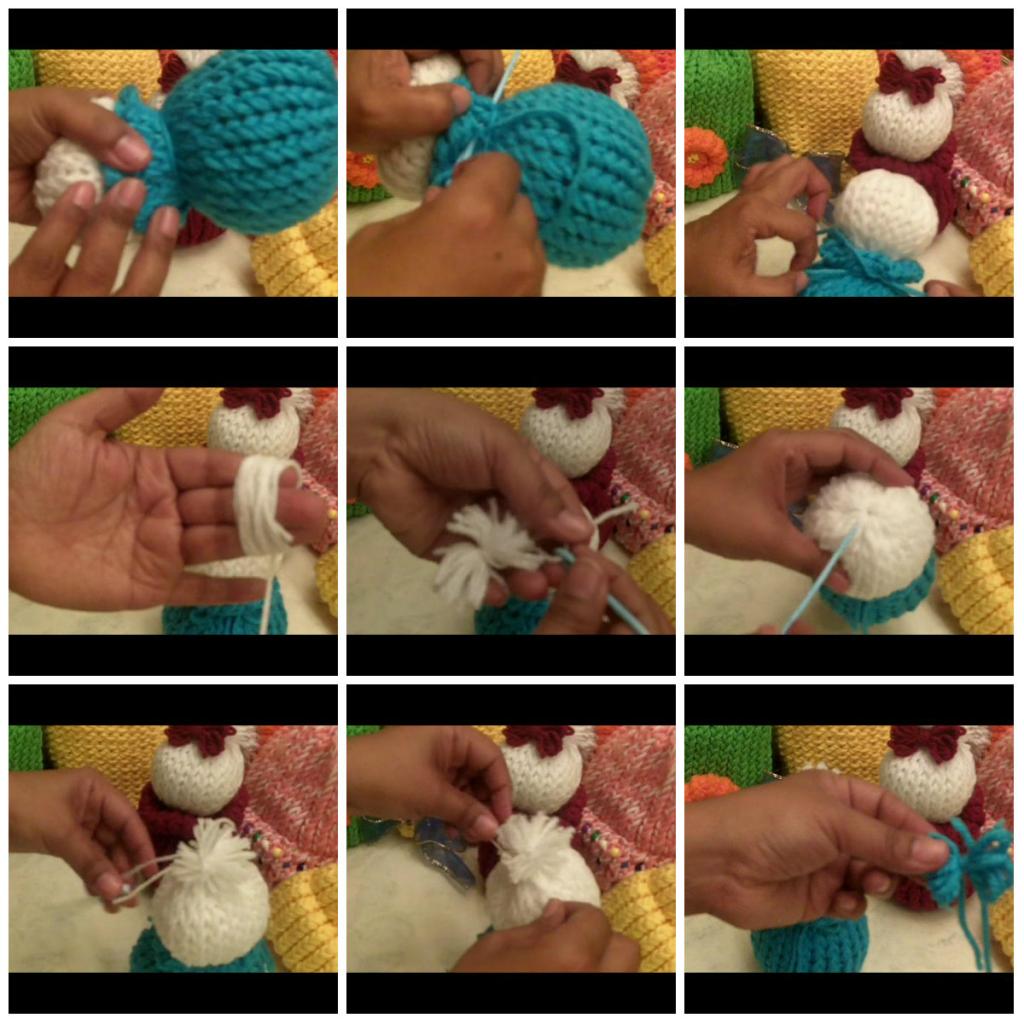 1. Stretch out the collar. Pull over bottom part of the neck
2. Sew completely around the neck
3. With the left over string, you can tie a cute bow
4. Make a pom-pom. Leave two long strings for attachment.
5. Thread one of the strings through a yarn needle
6. Sew the pom-pom through the top of the head
7. Tie the two long strings into a knot
8. Make a double knot
9. Make a yarn bow (like you would a pom-pom – but don't cut the folded yarn)
Part 3 of Picture Tutorial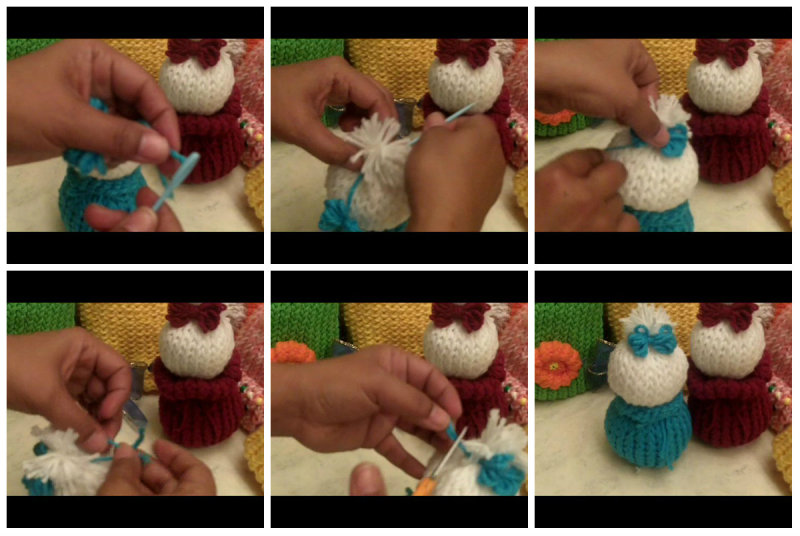 Thread one of the long strings from the bow yarn .
Insert the needle through the top of the head and past the pom-pom
Bring the other long string around to the back of the head
Tie the two strings in a tight knot
Cut the left over strings
You're Done!
Loom Knit a Doll Video
Loom Knit a Preemie Hat
Tagged: blue loom, Doll, dolls, gnome, handmade doll, knifty knitter, knit doll, Loom knit dolls, loom knitting, loom knitting video, toy