The Mock Mesh Shawl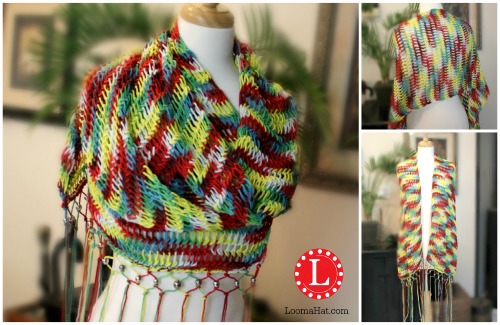 The way you decide to wear the Mock Mesh Shawl will create more warmth or more elegance. Wrap several times around the neck and chest will be made for a very warm cowl type of winter wear. The loosely draped will open up the stitch and allow the breezy through the fabric. But the best part of this shawl is that it will look just as well over a simple t-shirt or that little black evening dress.
The pattern is a simple one and follows the stitch pattern that was posted HERE. Below is a step by step video tutorial for us visual learners.  Hope you guys like it .
Supplies for the Mock Mesh Shawl.
Loom: Any Extra Large Loom with at Least 41 Pegs. Used the Yellow Knifty Knitter in the featured sample.
Yarn: 400 yards of Worsted Weight. I used Bernat Handicrafter 100% Cotton in Intense Blue Ombre for  featured sample. There is enough yarn left over for a matching hat.
Hook: Any loom knitting hook. Used the Knifty Knitter with a Grip. Crochet Hook
Beads: Approximately 30 Large Hole Beads
The Basic Pattern
The Basic Pattern is below to buy a detailed Downloadable Pattern: Click HERE
Consider Joining Patreon . For as little as $2 get all patterns posted each month. With a higher $5 pledge you also get the downloadable video so that you don't need to be online to create your project. To join Patreon: Click HERE
To Purchase the Finished Product: Click HERE
Cast on: Wrap 41 pegs
Shawl: 
Rows 1 – 3 : Knit
Rows 4 – 75: Knit 2 , Mock Mesh Stitch until the last peg, Knit 1
Rows 76-77: Knit
You can knit the project longer or shorter.
Cast-Off: Modified Basic Bind-off
Add Fringe:  Knotted Fringe.
It's a good idea to tighten the loose loops from the cast on before adding the fringe.
You Can Purchase the Finished Product: Click HERE
The Video for the Mock Mesh Stitch
As always I ask that you watch the video from beginning to end before you start the project. The pattern is simple but there are many steps.
.

.
.



Tagged: prayer, rectangular, scarf, shawl