Rainbow Loom Bracelets Fishtail on Your Loom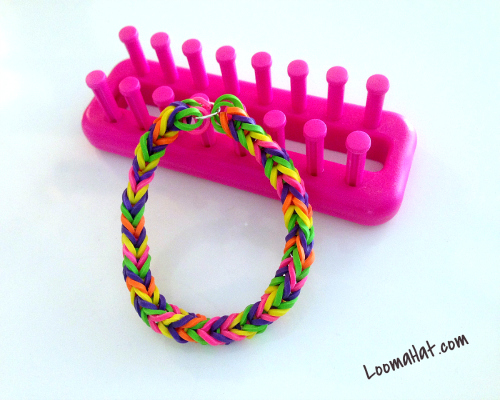 Rainbow Loom Bracelets Fishtail without the Rainbow Loom. You can make this very pretty bracelet on any loom you already have. The size and shape don't matter because you only need two pegs. This means that from the smallest to the largest, round or square, doesn't matter, if you have a loom it will work. So here your chance to use that loom that's gathering dust from lying around.
I didn't even use the rubber bands from Rainbow Looms nor the c-clips. Below are the items I used to make my Rainbow Loom Bracelet.
Scroll Down for A Pattern and Tutorial Video
Para un Tutorial en Español : Haga Clic Aquí
 .
Tools and Materials : Just 4 !
.
.
My Loom
Loom Hook
Rubber Bands
Jump Ring
.
If you feel more comfortable with the c-clips Amazon has Lots of Great Deals on the Rainbow Loom Bands refills and compatible brands. Soooooo many to choose from.
Some off-brand packages of bands come with as many as 1000 or even 1800 multi-colored rubber bands and anywhere from 24- 40 c-lips. The fishtail bracelets takes LOTS of rubber bands. Click Here
.
.
Fishtail Bracelet Pattern
Step 1:  Choose two pegs on your loom.
Step 2:  Get one rubber band, twist it to make an 8 shape. Put one loop on each peg.
Step 3: Put two more untwisted rubber bands on top of the first band.
Step 4: With your hook pull the one of the bottom loops (your first twisted band) off the peg and on place it in-between the two pegs. Do the same with the other loop.
Step 5: Place another rubber band over the two left on the loom.
Do Step 4 – Step 5 until you reach the desired length.
Step 6: When pulling the bracelet off the loom do it with your hook. Pull all the loops onto the hook.
Step 7: Transfer the loops from your hook to the c-clip or your option for clasping the bracelet.
………………Yea Done !
.
Video – Less than 8 minutes
 I recommend that you watch the video completely before trying to do the project. I say this not because the project is difficult but because it makes easier. So put your materials together and after you finishing watching the video make your bracelet and remember to share pictures. I would love to share them with other readers. If you have any question leave them in the comment section and I will do my best to answer you as quickly as possible.
.
How About Some Charms – Cool and Cute Ad-ons
.

I really like these. I think adding charms to your bracelet adds some extra "charm" to any of your accessories.  These are especially made for the rubber band bracelets.
For more information : Click Here
.
Another Bracelet: Made with Embroidery Floss
.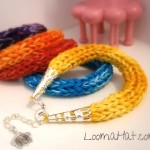 The Friend Bracelet is one of my favorites.
If you like bracelets this is another option. This one is made on the Spool Loom with embroidery floss . Nice and easy and really cool. And beads to give it a touch of Classy.
Take a look and try out the free pattern and video tutorial.
===========================================================================
Tagged: bracelets, rainbow loom