Rib Stitch Hat on an Extra Large Round Loom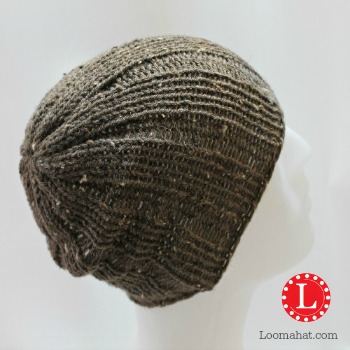 Dust-off that extra-large round loom you thought was too big for a hat and lets put it to good use. Make a really cool brimless rib stitch hat for your man and a sweet matching one for you.
This one is easy enough for a beginner, just three knits and a purl. And in case you've never heard that you could knit a purl there is a step by step video tutorial to help you with this FREE pattern.
I made a beanie version but I give you the information you need to make it as slouchy as you like. One extra nice thing about this hat is that no matter what it will keep its shape. How's that for a hat made with a large loom?
Para español: Haz clic aquí 
The Supplies for the Rib Stitch Hat
Loom: Any Extra Large Round Loom. I used the 41-peg Yellow Knifty Knitter
Hook: Any Loom Hook. I used the Knifty Knitter with a Rubber Grip
Yarn: Best to use a wool or nylon blend. I used  Vanna's Choice in Barley
The Pattern for Rib Stitch Hat
The Below Pattern is FREE on this Website – To Purchase a Printable PDF of the Rib Stitch Hat Pattern: Click HERE  ( Thanks for You Support ! )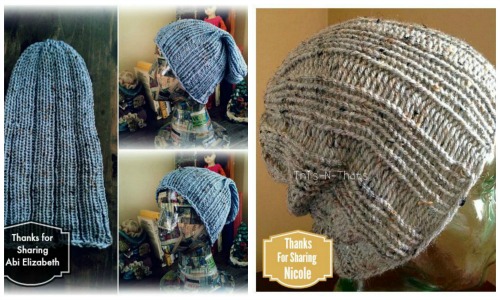 Image Credit: Hats above made by Abi Elizabeth and Nicole Drown.
Notes:
6 rows for every inch. One inch is equal to 2.54 centimeters. I made an 8 inch hat. Feel free to custom size your own.
U-wrap knit stitch through out this pattern
Cast-on: Wrap all your pegs. Do 1 row with the U-wrap Knit Stitch
Row 1: * Knit 3, Purl 1, repeat from * to the last 5 pegs, Knit 4, Purl 1
Knit Row 1 Six times for every desired inch of length. I did 50 rows not including the Cast-on.
Bind-off: Use the Gathered method
Clean-up: Weave in the ends, Tighten the Loose Loops
The Video for Rib Stitch Hat
As always I recommend watching the video completely before starting the project. It will make it a lot easier to understand the pattern as a whole.
Subscribe to my YouTube: Click Here
====================================================================
Tagged: beanie, hat, hat patterns, men, mens, slouch, slouchy