Slub Yarn Slouchy Hat and Cowl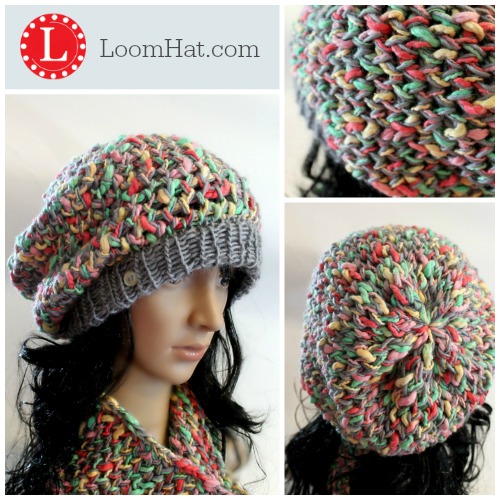 So I've learned about a novelty art yarn called Slub. If I was only allowed 2 words for it I would say that it is Beautifully Crude. It is a technique that come about by mistake. New spinners couldn't get their tension right and created an uneven, lopsided fiber. Now it's made on purpose. This unrefined product gives a really unusual and interesting texture to your knitting. I loved it.  I instantly thought I needed to design a Slub Yarn Slouchy and why not go one step further and make the matching cowl. The problem was loom knitting this crazy yarn with both extreme of thickness, way to thin sometimes and way to thick other times.
I case you didn't read my last post, well I did find a solution and below is the pattern for the hat and the cowl. Plus if you keep scrolling you will find a step by step video for the slouch hat.
Para español: Haz clic AQUÍ 
About the Slub Yarn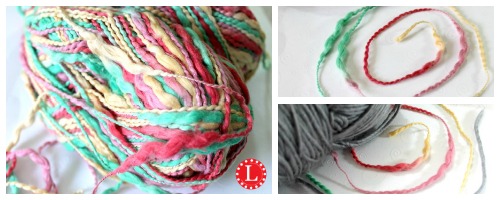 These yarns are not consist in any way. That's the point. The batch in your hand is different through the skein and from any other skein in the variations of thickness. So you can go from say Sport #1 weight yarn  to Chunky # 5 within a 1 inch span. How can you pick on loom based on that? You can't be swapping gauges while you work your project.
I found the solution in Vickie Powell's line of yarn called Sheepish. This meant that I would have something consistent
For more information on Slub: Click HERE
 * Where can you get the Slub *
: Amazon, my favorite is eBay
and some Independent Yarn Sellers
And now Joann's has a nice line of Thick & Thin Yarn by Buttercream Luxe Crafts
Now Lets Talk Patterns
Pattern for Slub Yarn Slouchy
.
The Below Pattern is FREE on this Website – To Purchase a Downloadable Printable PDF Click HERE.  As Always Your Support is Greatly Appreciated
Supplies:
Loom: Any Extra Large Round Loom. I used the 41-peg Knifty Knitter.
Yarn: 150 Yards of Slub Yarn and 150 Yards of Worsted Weight Yarn. I used Joann's Generic Bagged Yarn and Vickie Howells Sheepish in Grey-ish
Where can you buy slub yarn ?  Amazon, my favorite is eBay
and manyIndependent Yarn Sellers
Hooks: Any Loom and Crochet Hook. Used Knifty Knitter with Rubber Grip and a Susan Bates Crochet Hook.
Stitches: e-Wrap, Uwrap, Figure 8
Notes:
Except for Cast-on, all Knits are U-wrap
Cast-on:
Brim: 
Rows 1 – 20: Single Rib Stitch ( Knit 1, Purl 1 )
Fold the fabric in half and mount the first stitches back on the loom. Knit the two sides close.
Row 21: Knit
Body:
Rows 22 – 38: Figure 8 Stitch
Row 39: Knit
Row 40: Knit (Decrease every 4th peg using the Basic Bind-off)
Cast-off:
The Gathered Method
.
Video for the Slub Yarn Slouchy Hat
.As always I recommend watching the video from beginning to the end before starting on the project. In fact scan through the pattern, watch the video and then start on you Slub Yarn Slouchy Hat and Cowl pattern.
Let me know if you have questions or comments in the section below.
To Subscribe to my YouTube Channel: Click HERE
To Change up Stitch Pattern – How about a list of them: Click HERE
.
Pattern for the Slub Yarn Cowl
I didn't make a video for this pattern. It's rather simple. Should you have any questions please feel free to leave those in the comment section. Please do not use the Contact Us option for pattern questions only because someone else may have the same question. Thanks.
Cast-on:
Body
Rows 1- 2: Knit ( Uwrap )
Rows 3 – 11: Figure 8 Stitch
Rows 12 – 13: Knit (Uwrap)
Row 14:  e-Wrap Knit
Cast-off:
Basic Bind-off ( Knit both pegs )
====================================================================
Tagged: beanie, cap, cowl, hat, hat patterns, novelty yarn, scarf, scarves, slouch, slouchy, thick and thin yarn