Add Yarn or Change Color
Add yarn or change colors in the middle of a loom knit project with no problems. Here are two quick and easy tutorials to show you how I do it. One is text, the other a 2 minute video. The purpose was to answer the question, "What do I do if I run out of yarn". This technique also works for changing colors.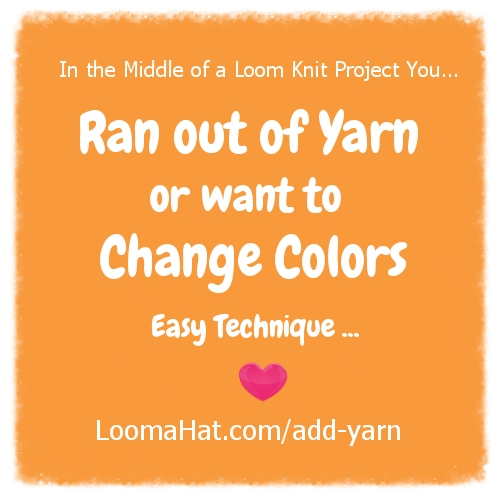 Step One
Make a loop (slip knot) with the yarn you want to add
Step Two
Put the loop on the very next peg
Step Three
(Optional) Tie the two short ends. I always do this because it makes me feel more secure that the work won't unravel.
It's that easy. Not much fanfare. Just three simple steps and you're back in business. Hope this helps. If you add yarn in a different way please share it with us in the comment section.  Ideas of any kind are always good ideas.
Add Yarn:  The Video
===========================================================================
Tagged: change color, changing color, connecting yarn