Americana Yarn Scarf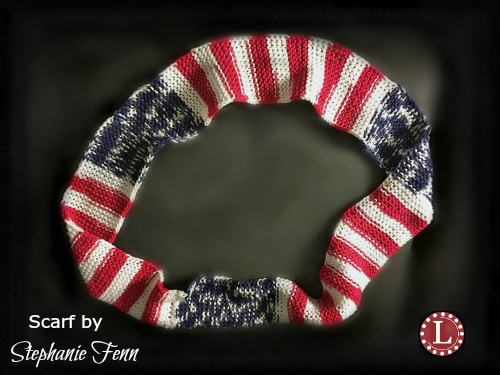 Stephanie Fenn is a sweet member of our Facebook family. This week she was nice enough to share her beautiful Red Heart Americana Yarn scarf picture with great information so you can make your own. Her instructions are so super easy anyone can make this. As always there is a helpful video. This one is not for the pattern but for the knit and purl stitches.
So for all of you proud Americans (me included) , and those that love anything Americana here is a great SUPER easy project. But note that the yarn is a key factor .
Instructions for The Red Heart Americana Yarn Scarf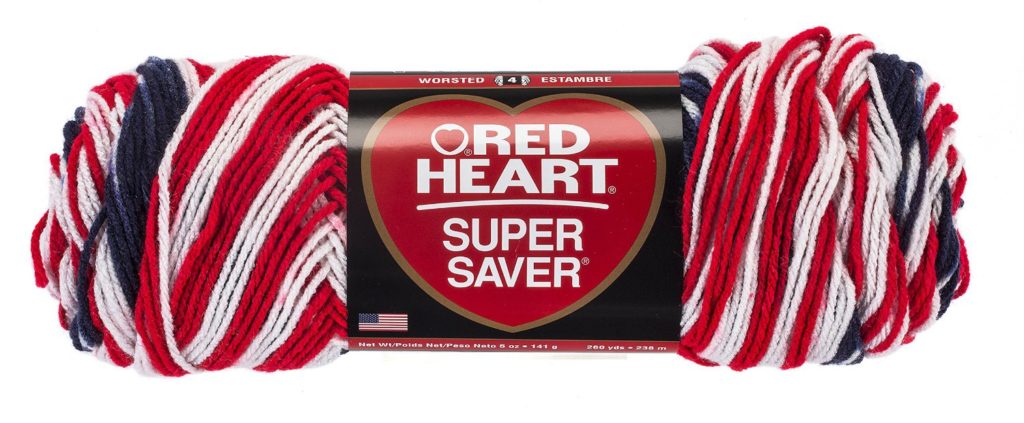 SUPPLIES:
Loom: Small 24-Peg Loom
Yarn: Red Heart Super Saver in Americana – 4 oz
Hook: Any Loom Hook – If you want a cool grip Click HERE
TO PURCHASE THE YARN: Click HERE
Notes:
Stitches: Flat Knit, Purl (Garter Stitch)
To do the Garter Stitch 
Row 1: Knit
Row 2: Purl
For the Scarf
Repeat rows 1-2 for about 240 rows for 60 inches (1 inch = 2.54 cm). Depending on your style of knitting it can be more or less rows. Keep in mind that the formula is mine. Measuring as you go is always a good idea.
For the Bind-off here is a great video by Nicole from This Moment is Good : Click HERE
Below are Stephanie' instructions: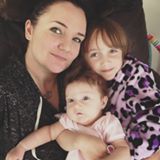 I used my blue Knifty Knitter and cast on 12 pegs (including the slip stitches on the edges)
Garter stitch (flat knit for the knit stitch, but my mom did one with a garter stitch using the e-wrap and it was cute too) for about 60".
I just kept going until the pattern repeated 3 complete times.
Then cast off with the regular stretchy bind off and stitched the two ends together.
THANK YOU STEPHANIE !!!

.