The Andalusian Stitch on a Knitting Loom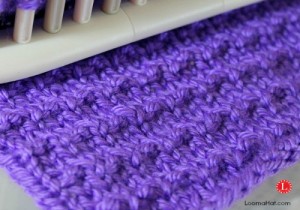 This simple but very cutesy stitch is another combination of the all time favorite knitting couple, the Knit and Purl. The Andalusian Stitch is easy enough for beginners yet detailed enough with its subtle bumps to give a nice textured look to any of your favorite projects.
This knit and purl do give it a somewhat elastic tension so the fabric does condense but it's not elastic enough to replace the Rib Stitch on your brims. But is makes for a great dishcloth or washcloth. I intend to make mine a 8×8 square to send to Knit a Square.
Let me know how you used yours and now the pattern and video tutorial to help you make you own Andalusian Stitch …
I like that anyone can do this pattern and that it lends its self for any kind of project from the basic hat to gloves, socks or just the ornate pocket on a shirt or sweater. It does make for a dense stitch however the striped part does leave a slim line of opening when you switch the pattern from rows of knit to the rib stitch.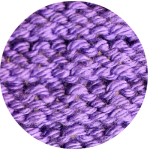 Skill Level: Easy
Loom: Any but the stitch works best with a small gauge loom. Just doesn't show up well with large gauge looms like the Knifty Knitter or the Boye. I used the Adjustable Hat Loom .
Yarn: Like most textured stitch patterns this one looks best in a solid color with a slight sheen.  I used one of my favorite brands Caron Simply Soft in Grape. Other economy brands like the Red Heart just didn't work well.
The Reverse Side: Dense and Uniformed. Slightly Striped
Recommendations: This baby rolls and curls. If doing a flat panel give it borders. Pull on the fabric a bit to stretch out the knit stitches. Tighten the loose loops and block your knitted items.
The Pattern
Multiples of 2 + 1 add the extra stitch for edges
Row 1: Knit
Row 2: Knit
Row 3: Knit
Row 4: Knit 1, Purl 1
Repeat until you reach the desired length.
Scroll down for the video tutorial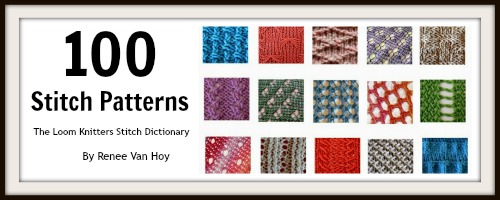 .
The Video: Andalusian Stitch
As I always recommend, you should watch the video from beginning to end before trying the stitch pattern. Should you have any questions please feel free to write them in the comment section below.
I hope you enjoy this video. If you do Subscribe so that you don't miss any of the upcoming stitches in this Sunday Stitch Series.
To Subscribe to the YouTube Channel: Click HERE
To Share this Video: Send this link: https://www.youtube.com/watch?v=n17suI8SGxQ
====================================================================
Tagged: andalusian, knit and purl, rib stitch, stitch, stitch pattern, stitches