Avoid Knitting Ladders on Your Loom Knit Hat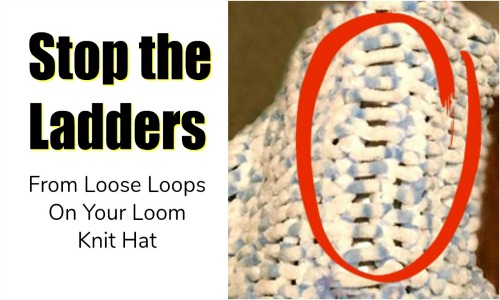 A few of my followers have asked me to show them how to avoid knitting ladders. Ladders happen when you have stitches that are more loose than the rest of the fabric.  They cause an ugly seam down your hat. After finding these on a hat you've been working on for several hours is very disappointing.
I'm not going to write out a long post but I have done a 2 minute video that will give you my solution. Remember this is only my opinion and you may know a better way to solve this issue. If you do, write your solution in the comment section of the page.
Avoid Knitting Ladders Video
This 2 minute video deals with the ladder issue on loom knit hats however the technique will work on any project. As always I suggest watching the video completely. I often get questions that are answered in the video. I don't mind the questions but I'm sometimes so behind that it can take weeks for me to answer you.
To subscribe to my YouTube channel: Click HERE
===============================================================================
The ads below are generated by Google and are not a LoomaHat.com endorsement. They are here to help cover cost and keep this website and all of it's content FREE to you.
Check it out – you might get something you've Always wanted.
.




Tagged: Avoid seams, Knitting ladder