Baby Booties by Tamaira DeVries-Liverance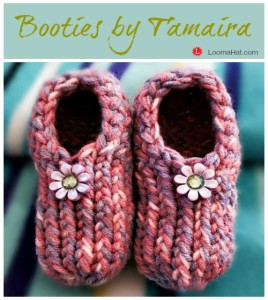 On a Monday, my least favorite day of the week by the way, I opened my Facebook page to find a picture of the most adorable baby booties ever. I could just picture the chubby little feet that would slip into this comfy cocoon. They so made me smile.  Well, I asked Tamaira DeVries-Liverance if I could share her little beauties with you guys because stuff that makes people smile should be shared. Not only did she let me share the picture, she let me share how she made her "Princess Slippers for the Ball".
THANK YOU Tamaira !
The pattern is easy to follow and if you scroll down to the bottom of the page you will find a video tutorial I made about 100 years ago but it still does the job.
Here is the Comment Below the Picture
I loomed these adorable slippers last night for the little girl I nanny.
I have my own pair (less adorable lol) and she asked if I could make her some "princess slippers to wear to the ball"…how could I refuse?!
Supplies
.
Loom: For these little ones I used a 16-peg round loom (24-peg for adults).

Yarn: I used 3 strands of worsted weight (pictured below).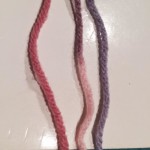 The pink, and variegated are Red Heart Super Saver, the purple was extra from a previous project (I don't recall the brand).
Pattern: by Tamaira DeVries-Liverance
.
I did these without a pattern. I watched a YouTube tutorial for adult slippers and adapted it.
These are made using the E-wrap stitch.
1. Measure the foot they are being made for (these are 6 inches.)
2 Wrap your yarn around the outside of the loom once, and leave this for stitching at the end.
3. Start by making a flat panel (wrap around the loom, when you reach the last peg wrap backwards) approx. half the length needed (in this case 3 inches.)
4. Once you reach the half way point switch to wrapping all the way around (like you would for a hat.)
5. Finish the length needed, then finish like a hat (remove from loom, flip inside out, pull tight, tie off & weave in the ends.)
Fold the flat end in half to form the back of the slipper.
Stitch closed (on the inside of the slipper) with yarn measured at the beginning. Weave in ends.
And you're done!
You can add a cute button if you would like (I love the ones I used on these!)
Video:
.
Below is a video I made a LONG time ago when I first started one of  my YouTube Channels. Excuse that it's not that great.. but it does show you how to make the booties. Make sure to watch the whole video before you start the project.
I hope to do a remake sometime soon. But for now …
.
====================================================================
Tagged: baby, baby booties, shoes, slippers, socks