Bamboo Stitch Hat Pattern Video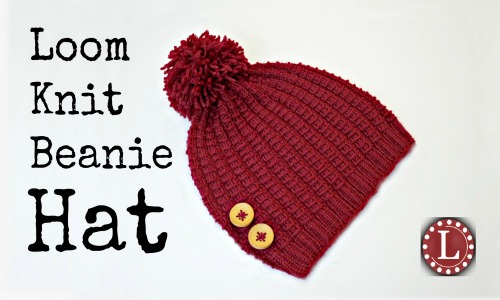 The Bamboo stitch hat has a really nice textured look. The stitch was a bit funky to convert in 2015 and the result was not exactly what I thought – it's even better and I love it. It looks difficult but it's actually easy once you understand the technique of slipping with the yarn in front. Isn't it great that there is a video to walk you through this step if you are not familiar with it.
Supplies for the Bamboo Stitch Hat: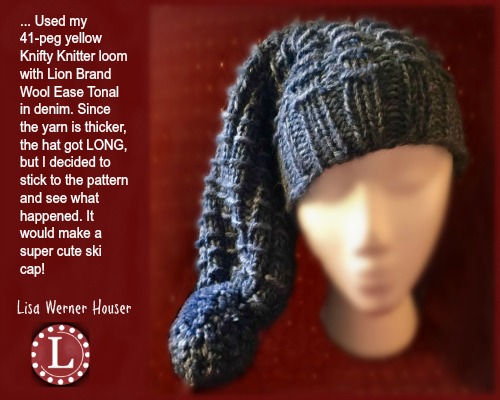 NOTE: Keep in mind that any change in the loom or the yarn will give you a whole other look.
Supplies used in featured item:
Loom: Any Extra Large. The KB Adjustable Loom was Used in Featured Sample under heading.
Yarn: 170 Yards of Worsted Weight, Single Strand. Lion Brand Wool-Ease in Cranberry Used in Featured Sample under heading.
Hook: Any Loom Knitting Hook. Authentic Knitting Board Ergonomic Hook
Pattern Notes:
Tight fit beanie. This project takes a lot more yarn than would be expected for a snug fitting hat. If using a large gauge loom you can still use just 1 strand of yarn
To Purchase Beanie Hat Pattern PDF
Below is the video with step by step instructions to complete the Bamboo Stitch Hat. You don't really need a written pattern but if you would like to have one or to support this website you can buy a downloadable PDF:  Click HERE
Video: The Bamboo Stitch Hat
As always I recommend watching the video completely before starting the project.Don't even pick up the supplies instead stretch out on a comfy chair with some popcorn and your favorite drink.
To Subscribe to My Channel: Click HERE
.
Tagged: beanie, hat patterns, video