Loom Knit the Basic Basket Weave Scarf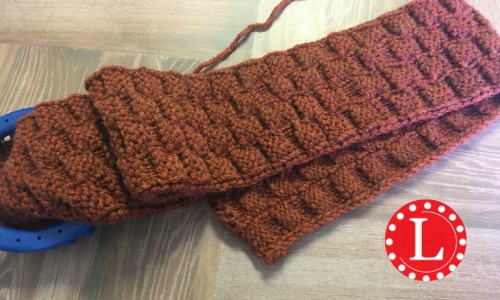 The basic basket weave scarf is great pattern for a quick and easy gift. If you start early you can finish the project in a day. What I like the most about it is that the stitch is unisex so you can make a matching set for a cute couple. One more thing to consider is the fact that the stitch is reversible. How cool is that?
Basic Basket Weave Scarf Pattern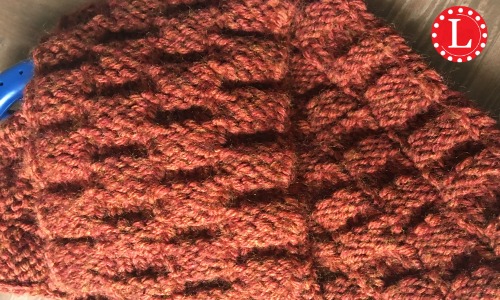 SUPPLIES
Skill Level: Advanced Beginner
Stitches:  Knit (Use the U-wrap version of the Knit Stitch) , Purl
Loom:  Loom with at least 20 pegs. I uses a small 24-peg loom with 5 inches in diameter.
Yarn:  Approximately 250 Yards of Chunky Yarn.  I used Wool-Ease in Spice.
Tools: Loom Hook, Crochet Hook
Finished Project Size: Approximately 5 x 60 inches.
TO PURCHASE THE DOWNLOADABLE PDF PATTERN: CLICK HERE
Consider Joining Patreon . For as little as $2 get all patterns posted each month. With a higher $5 pledge you also get the downloadable video so that you don't need to be online to create your project. To join Patreon: Click HERE
Cast-on: e-Wrap cast-on 20-pegs. Knit 1 row.  Note: Cast on more pegs for a wider scarf.
> Row 1: Sl1, k1, (k4, p4 till the last 2 pegs), k2
< Row 2: Sl1, k1, (p4, k4 till the last 2 pegs), k2
Repeat Rows 1 and 2
> Row 5: Sl1, k1, (p4, k4 till the last 2 pegs), k2
< Row 6: Sl1, k1, (k4, p4 till the last 2 pegs), k2
Repeat Rows 5 and 6
Continue the pattern: You will repeat Rows 1-8 until you reach the desired length. I did 408 rows to get 60 inches.
Cast-off: Modified Basic Bind-off.
The Basic Basket Weave Scarf Video
As always I recommend watching the video from beginning to end before starting the project. You would be surprised how helpful that practice is to your success.
To subscribe to my YouTube Channel: Click HERE

.




Tagged: free pattern, loom knit scarf, scarves