Basketweave Stitch Hat
The Basketweave Stitch Hat was designed especially to donate to Knitting Rays of Hope a group that loom knits for cancer patients big and small. My intention was a 1920′s style hat for a millennium baby. I have to say that I am very happy with the results
I am sharing this easy pattern for Free. My favorite price. I hope you will make one for your baby and give one to a great charity. Look at my list for a few suggestions.
Below is a the pattern. Please share your pictures, comments and suggestions. All are greatly appreciated
Basketweave Stitch Hat – The Pattern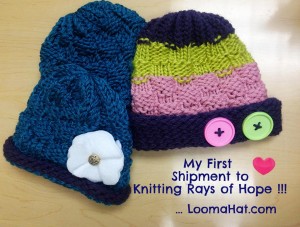 Notes:
Knit with two strands of yarn as one.
Loom Used: Darice 36 Peg
Yarn Used: Red Heart Eco-Ways in colors Cornflower and Misty Violet
For the Fabric Flower Pattern: Click Here
For more Information on Knitting Rays of Hope : Click Here
Below is a Video Tutorial of the Knit and Purl Stitches
Cast on:
e-Wrap knit
Brim:
Rows 1- 4 Knit
- Change yarn color
Rows 5 – 11 Knit
Hat:
Rows 12 – 15 Knit 4, Purl 4
Rows 16 – 19 Purl 4, Knit 4
Rows 20 – 24 Knit 4, Purl 4
Rows 25 – 28 Purl 4, Knit 4
- Continue the pattern if you need the hat to be longer. Stop when you have 3 more rows to go. You need three rows to complete the recommended Cast-off.
Cast- Off :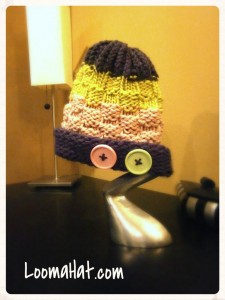 Another Basketweave Stitch Hat
The Basketweave Stitch Hat is very special to me. I had a great time making it. I believe it can be completed in a pretty decent amount of time considering how impressive the stitch appears. But you do have to focus to carry out the stitch and I do suggest that you keep a counter and a piece of paper and pencil.
For another version of the Basketweave stitch pattern : Click Here
I hope you like the pattern enough to try some variations. Here is the picture of another version of the Basketweave Stitch Hat. It has a longer Brim wrap-up. Three changes of color. The flat knit stitch was used with the pink section. Regular knit on the green section. The basic knit stitch for the top. Three different types of yarn make this hat look very different from the first one although there are just a few differences. Like the original one I used the Flat Drawstring Cast-off. I call it the Funky version.
Here are a few of the Stitch Resources I use:
KnittingLoomCentral: Basic Stitches
Isela Phelps: Stitch Guide
Kristen Magnus: YouTube Stitch PlayList
Sofia Burns: Loomatics
Books for Patterns and Stitches
=====================================================================================================