Rolling Ombre Hat Beanie Pattern with Video Tutorial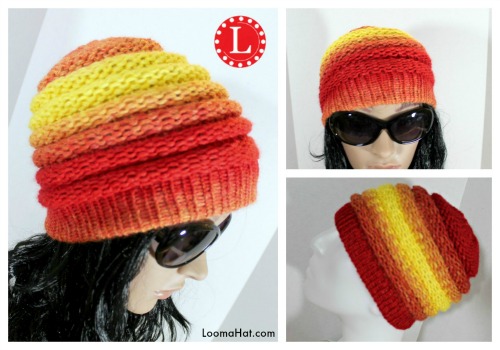 Ombre means having colors or tones that shade into each other. I love this style of color play. It's much easier to do this with needles then a loom. But with the right yarn and a cool beanie pattern you can make a really easy hat you'll love.
Below is the easy pattern and a step by step video tutorial
Hat Pattern
The pattern below is FREE on this website. To purchase a printable PDF: Click HERE . Thank you for your support. It's GREATLY appreciated.
Notes: The pattern is very easy. Just rows of knits and purls. You will be using the U-wrap version of the knit stitch throughout the project.
Supplies:
Loom: Extra Large Round Loom. I used the 41-peg Knifty Knitter Extra Large Yellow Loom
Yarn: Approximately 135 yards of Worsted Weight Ombre color yarn.
I used Ice Yarn Brand in the Fan Wool Red, Yellow. Friendly note: this yarn is sold on Amazon .I bought mine from eBay. Either way the best price is when you buy in lots of at least 4.
Hook: Any Loom Hook. I used the Knifty Knitter with a Grip. The one on the video was a custom-made gift from Marrie Joe Sapha on Etsy (THANK YOU Mary Joe ! )
Yarn Needle: Any Yarn Needle. I use Susan Bates
Cast-on:
Wrap all your pegs. Knit a row using the U-wrap knit stitch.
Brim:
Rows 1 – 25: Knit ( U-wrap )
Fold the fabric, bring up the first row of knitting and remount the loops on the loom. Knit-off
Hat:
Rows 26 – 30: Purl
Rows 31 – 35: Knit
Note: You are going to Repeat Rows 26 – 35 four more times. Note that you're knitting 5 rows of purl and then 5 rows of knit. They will be Rows 36 -75.
Rows 76 – 80: Purl (5 rows)
Rows 81 – 84: Knit (4 rows)
Rows 85 – 94: Purl (10  rows)
Cast-off:
Decrease the Crown:
Knit the peg – move the loop to the next peg knit-off, go to the next peg. Repeat around the loom. You should have a loop on every other peg. If your loom is odd-numbered you will end with two loop together at the end.
Then do a Gathered Bind-off
FOR A MESSY BUN VERSION OF THE PATTERN
Click HERE or Click the Picture Below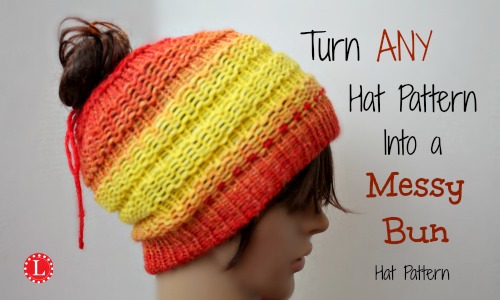 Beanie Pattern Video
I recommend watching the beanie pattern video completely from beginning to end BEFORE starting the project.
Stay up to date with the latest video – Subscribe to my YouTube Channel: Click HERE
.
Tagged: 41-pegs, hat patterns, knifty knitter, knit, yellow loom