Bernat Viva in Rust is Warm and Beautiful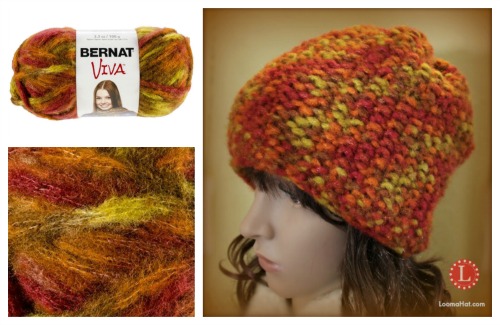 While on a dangerous trip through the yarn aisle in Walmart I found the perfect yarn for an EASY Thanksgiving slouchy hat. I picked it for the colors only to find out all the other awesome features of this yarn. The Bernat Viva in Rust is lovely.
Then I figured that as long as I tell you about the yarn I should give you the easy slouchy pattern. But lets start with the yarn.
The Bernat Viva in Rust: Characteristics and Specification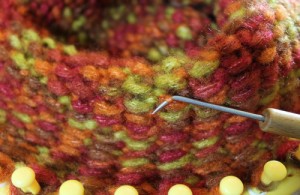 According to Amazon
Weight category: 6. This super bulky weight yarn is perfect for all your knitting and crocheting projects!
Content: 82% acrylic/18% nylon.
Put-up: 3.5oz/100g 85yd/77m.
Gauge: 11sx15r = 4in/10cm on size US11/8mm knitting needles.
Suggested crochet hook size L11/8mm.
Dye-lotted: we try but are not always able to match dye lots.
Care: machine wash dry low do not bleach do not iron do not dry clean. Comes in a variety of colors. Each sold separately. Imported.
According to Me
Pros:
It's Super Bulky – says 6 but it's more like a 5
Great Colors – Especially this Autumn spectrum of colors
Warm: It's a type of Mohair yarn – Feels both thick and light
Interwoven strings:  It appears that part of the design is a very thin thread that is woven into the yarn and gives is a sort of round shape. Really interesting and reminds my of Ice Yarn
Looks Felted: When you finish you project – it will look felted – without have to go through the process
Cons:
Feels a bit scratching – nothing major – has a remedy called softener and the dryer
Pattern: Seed Stitch Brimless Hat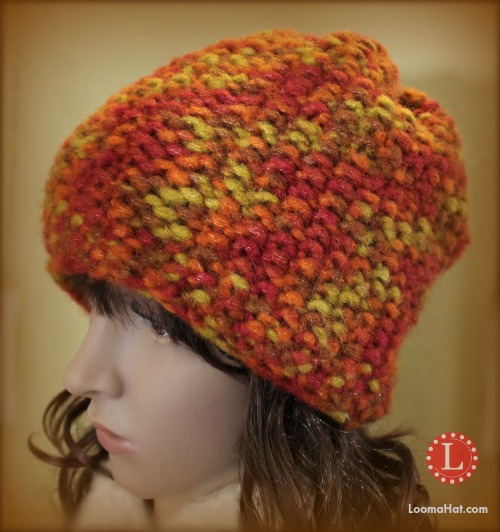 Pattern is FREE on the website. To Purchase a Printable PDF: Click HERE
Supplies:
Loom: Extra Large Loom – I used the Yellow Knifty Knitter
41-peg loom.
Yarn: Bernat Viva Yarn
in Rust
85 yards
Hook: Any loom knitting hook
Cast-on
Wrap all your pegs. Knit 1 row of U-wrap or do the Chain Cast-on
Hat
You will be knitting the Seed Stitch
Row 1: Knit 1, Purl 1 until the last 2 stitches, Knit 2
Row 2: Purl 1, Knit 1  until the last 2 stitches, Purl 2
Rows 3 – 50:  Repeat rows 1 and 2
Cast-off
I used the Gathered Method – But for a Flat Top use the Decreased Crown
Clean-up
VERY IMPORTANT: Tighten the Loose Loops on your Cast-on
Cut excess yarn and weave-in your ends
Stretch out your fabric.
Block your hat