Boye Loom Set
The Boye loom set is basically the same as most of the major selling looms. There is however one small difference in this brand. That one little thing is why I don't use this loom or recommend it.
I must admit that I'm partial to the bright happy kiddy colors. They are quite different from the basic color scheme used by Knifty Knitter and the plain natural wood used by some of the other brands.
The plastic material is sturdy and should last about as long as the dinosaurs. So what's the problem …..
But First – One Good Thing – It's Included
One good thing about the Boye Loom Set is that like most loom sets it includes the loom knit hook and the yarn needle.In reality with the exception of the yarn and scissors very little else is needed.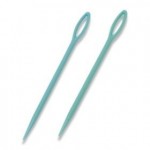 The
Problem

is Your Head

When I looked at a loom for the first time with all the little bumps on the tip of the pegs I can't help but think of tiny soldiers standing side by side. The little bumps looked like little heads. The problem with the Boye Loom Set are those little heads.

If you take a close look at the pegs you will find that the Boye loom pegs have a slit. That slit may seem like a good idea because it holds on to your top loop of yarn as you flip the bottom yarn loop. The problem is that once it has your loop of yarn it doesn't want to let it go.

Plus according to some of the people reviewing this product on Amazon the pegs tend to break. I, myself can not verify that flaw. I do suggest that you take some time to read a few reviews written about the Boye Loom Set on one of the biggest on-line stores in the world: Amazon
The YouTube Video Review
Here are Alternatives to the Boye Loom Set
I personally use the Knifty Knitter almost exclusively. But, I have a great appreciation for the low price and really cool bright colors of the Darice Knitting Loom set. It is close to identical to the Knifty Knitter. I also like the flexibility and versatility of the Martha Stewart Knit and Weave Loom Kit . I have heard a lot of complaints about sizing with the MS Loom kit. There is an easy way to size any knitting project. Read my, How Many Rows?, article
If asked to give up my Knifty Knitter and forced to choose another I believe a would choose the Darice. Once again you should read the reviews. It has 4.75 out of 5.0 stars with 79 customer reviews the last time I checked and the price.. well it's impressive and God knows I'm a sucker for good quality and a cheap price.
Well, that's my opinion.. be nice, leave me yours in the comment section.
Tagged: boye vs knifty knitter, loom, loom knitting, looms, product review