Celtic Knot Baby Hat by Yunus Shariff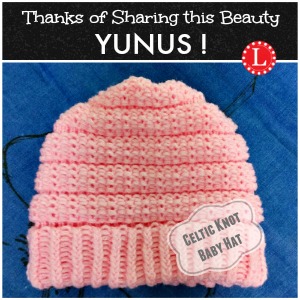 I found an awesome comment in my inbox this morning that made me extremely happy. It was a pattern for a VERY cute  Celtic Knot Baby Hat by Yunus, one of my webpage readers. I am sooooooooooooo grateful that he shared this with me and has given me permission to share it with you.
He used my Celtic Knot stitch with some smart adjustments. I must admit that the stitch detail shows up really well on his version. I am thrilled to see how my design can be tweaked for the better. I put the video of the stitch below the hat pattern. But don't deviate from Yunus pattern if you want your hat to look like his.
Please take some time and say Thanks to Yunus Shariff for his generosity. I hope he will give us more detail about himself at some point and that some day I can link to his own webpage with LOTS of new loom knitting designs. I got both my eyes on you dude !
En español: Haz clic aquí 
A Few Personal Notes for the Pattern
The Loom: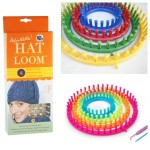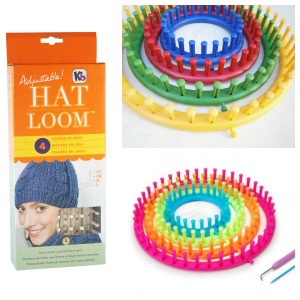 He used the KB Adjustable Hat Loom (which I love) in the small setting.
But you can make this little hat with any small loom like the Knifty Knitter, Darice, Boye (which I don't like read my product review for details: Click HERE) or Michael's Loops and Threads, 31-peg loom.
The KBAH can be put in a configuration for a small or large gauge setting. There are others a bit more costly than the one's name above that are similar with a small gauge like CindiLooms and Cottage Looms
. Both are high-end, high quality looms.
The Stitch Pattern: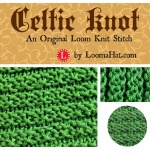 I mentioned this above but for those of you that like to skip to the Knitty Gritty, make sure to follow Yunus pattern and not the stitch video below. I put it there to give you baseline because it is the original stitch pattern. But if you want your little hat to look like hers then follow her pattern exactly.
For more the FREE Pattern and more information on the Stitch: Click HERE
The 4 Different Versions of the Knit Stitch:
If you're not sure what Yunus means when he says Flat Stitch I have a post with information and a video tutorial with an explanation of each version of the Knit Stitch including the Flat. Click HERE
Now lets move on to The Celtic Knot Baby Hat by Yunus pattern
The Pattern
.
Hello Denise!
I made this hat in baby size on KB's Adjustable Hat Loom with 2 strands of 4 ply (worsted weight) yarn. For the body, I tried doing 3 rows of purl, 1k,1p, purl followed by 4 knit (all knits are flat knits) like you suggested but the band of rows created were too narrow so I did 7 rows of p, k1,p1, p alternating with 4 k rows.
For a FREE Printable PDF Click HERE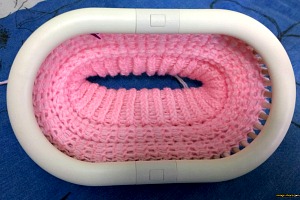 Following is the pattern in detail:

Brim
20 rows- 1 k(ewrap) 1 p all the way (rib stitch)

Body
*row 21, 22, 23, 24 k (flat)
(4 rows of flat knit)
row 25 p
row 26 1k(flat) 1 p
row 27 p
row 28 1k(flat) 1 p
row 29 p
row 30 1k(flat) 1 p
row 31 p
repeat from * till row 59 or desired length is reached.
Row 60 k E wrap and gather the hat.
___________________________________________
Original Pics
Picture 1: Click HERE
Picture 2: Click HERE
Picture 3: Click HERE
.
Stitch Video
Please keep in mind that this is only meant to give you a baseline. Again, if you want you hat to look exactly like the one in the picture you must follow the pattern above.
To Subscribe to the YouTube Chanel: Click HERE
To Watch my YouTube Stitch Pattern Play List: Click HERE
For MORE Stitch Patterns: Click HERE

.
====================================================================
Tagged: babies, baby, free pattern, free patterns, hat, hats, kb loom, knit hats