The Diamond Lace Stitch
The Diamond Lace Stitch is not the same as the Figure 8 which results in a lacy box-shaped fabric. Instead the Figure 8 is one part of the Diamond Lace Stitch and the other is that ever-present, first stitch all loom knitters learn, the e-Wrap. Together they form a beautiful lace pattern that can be used in an endless number of designs from shawls to sweaters and even hats. A bit girly so your limit may be your son or husband.
It appears complex but in fact it is an easy pattern even for an advanced beginner to do once you understand the basics of pattern. Plus keep in mind that I will be walking you through every step in a short video tutorial below.
Image of Shrug above and Sweater below by Permission: Sonia Cataquet
En español haz clic: AQUÍ
Breakdown of the Diamond Lace Stitch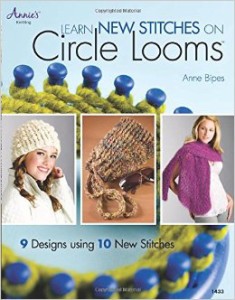 I believe the first time this stitch is presented was in Ann Bipes book, Learn New Stitches on Circle Looms. It is a good book with nice easy patterns but I will be honest and tell you that the how to explanation of the stitch pattern was NOT clear.  I didn't learn this stitch with this book. I learned it by reading the instructions given by Sonia Cataquet. Unlike the projects done by Sonia where you clearly see the diamonds, you can't even see the details of the stitch in the book's shawl pattern.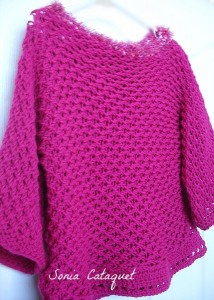 It's basically made up of 2 stitches, the e-Wrap and the Figure 8 stitch. The first is extremely easy to do. Just wrap all your pegs, bring the bottom loops over the top and knit off. For a detailed instructional post with text, pictures and video of the e-Wrap click HERE.
The Figure 8 on the other hand is not as easy it is however a constant and continuous 1 row pattern. Once you got the rhythm it almost becomes therapeutic.
To do the Figure 8 
Done over 3 pegs. Where ever your working yarn is, that is Peg 1 (don't do anything to Peg 1), With the working yarn in hand – You SKIP Peg 2 (bring the working yarn behind that peg) and Half wrap Peg 3 ( your yarn is now going in the opposite direction towards Peg 2) . Go behind Peg 2 with the working yarn and half-wrap Peg 2 creating a Figure 8. Now you should have a loop on Pegs 2 and 3. Knit off Pegs 2 and 3. You have completed the Figure 8 Stitch.
For More Detailed Instructions on this Stitch Pattern: Click HERE
Now let's get to the Diamond Lace Stitch Pattern
Stitch Pattern
Supplies I Used:
Loom: 24-peg Darice Knitting Loom
Hook: Knifty Knitter Hook with a Rubber Band Loom Knit Grip
Yarn: Medium worsted weight Super Saver Red Heart Yarn in White
Pattern Notes:
Multiples of 4 + edges
4 Row Pattern
When you skip Pegs keep your working yarn tight. K When you knit off on the second Peg pull the loop tight. This gives the stitch a neater look.
To create the Diamond lace stitch pattern you will have to offset the second Figure 8 stitch row.
Note that the Figure 8 stitch "sits" in the middle of skipped pegs.
When you do this stitch in the Round the last set may produce a loose stitch that requires some sewing
===========================================================================
Row 1: e-Wrap Knit all your pegs
Row 2: Figure 8 Stitch with Pegs 2 and 1, * Skip 2 pegs, Figure 8 Stitch with Pegs 4 and 3, continue pattern from * until the last set of 4 pegs then knit the last stitches
Row 3: e-Wrap Knit all your pegs
Row 4: Knit 1,  Figure 8 Stitch with 3 and 2,  * Skip 2 pegs, Figure 8 Stitch with Pegs 5 and 4, continue pattern from * until the last set of 4 pegs then knit the last stitches
Repeat the pattern until you've reached the desired length
For More Stitch Patterns: Click HERE
Video
As with all my videos I suggest you watch it completely from beginning to the end before starting on a project. Remember that this video is ONLY for the Diamond Lace Stitch pattern and not the shrug in the picture and any completed project. The cast-on and cast-off used with this stitch depends on your project. If you want me to recommend a cast-on or bind-off please let me know what kind of project you will be attempting to do with this stitch.
Don't miss any new stitches. Subscribe to the YouTube Channel: Click HERE
For a Playlist of More YouTube Stitch Pattern Videos : Click HERE
.
Please leave your much appreciated questions or comments in the section below. Most of the time you'll get a response within a few days. Sometimes a response may take longer if I need to research the information or I'm holding it to remind me of a requested project.
====================================================================