Double e-Wrap Knit Stitch on a Loom Pattern and Video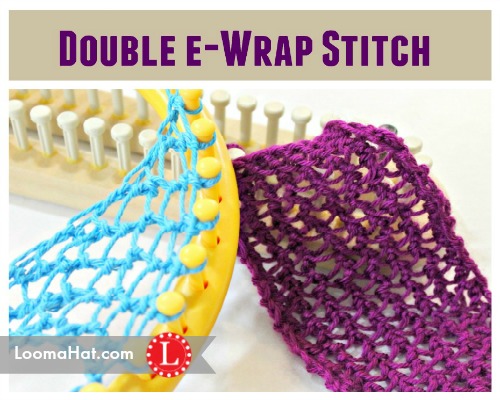 This version of the e-Wrap is the lace stitch from heaven. The double e-wrap knit stitch is super easy to do and the result is beautiful. My plan is to use if for a nice breezy triangle shawl. Perfect for the spring and summer season. This stitch has many possibilities from a light vest to a quick market bag.
Below are the instructions for the Double e-Wrap Knit Stitch and a quick 4 minute video to show you step by step how to do the stitch and a little extra information that will come in handy.
Double e-Wrap Knit Stitch 4 Step Instructions
.
Wrap the peg
Knit-off
Wrap the same peg
Knit-off
Go to the next peg
Repeat instructions 1-4
Notes:
Each peg is knitted individually. Unlike the regular e-Wrap knit where all the pegs are wrapped twice and then you start to knit-off.
The size of the loom will make the stitch more or less lacey. If you look at the two swatches in the picture you will note that the one done on the Yellow Knifty Knitter is a larger and more open stitch then the one done on the CinDwood loom.


If you are not familiar with the different versions of the Knit Stitch here is a post with a video that explains each version: Click HERE
Video for the Double e-Wrap Knit Stitch.
As always I recommend watching the video completely before attempting the Double e-Wrap Knit Stitch especially if you're a beginner. It's under 5 minutes and I promise the ending it worth your time.
To  Subscribe to My YouTube Channel: Click Here
To See More Stitches: Click HERE
.
.

.
.