Double Moss Stitch for Circular and Flat Panel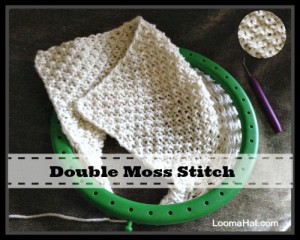 This beautiful stitch has a very simple pattern. The only skills needed are knit and purl. I really started loom knitting with it when I was trying to write a pattern for a Lapghan for Veterans Day. There were specific characteristics that I needed from the stitch that I would be using for a wheel chair blanket. It should look good on both sides, be simple, be warm without being heavy or stiff. I wanted to be sure that it would hide any knitting mistakes nicely, since I get distracted and can miss a stitch. The Double Moss Stitch had a check mark next to every requirement. It was perfect for my project.
Because of the bumpy striped nature of the stitch I also like it a lot for a dish cloth that will be used for scrubbing and a simple exfoliating wash cloth. Just remember to use cotton yarn for those types of knitting projects.  Naturally, I also like it for hats and scarves.
And for us visual learners the video is at the bottom of the post.
ENJOY!
For a definition of Lapghan:  Click HERE
.
Pattern Notes and Supplies:
Stitch Skill Needed:
Knit and Purl : For a Video: Click HERE
To get the texture shown in the picture above it's best to use the U-wrap or Flat knit stitch
Loom:
All looms will work. Gauge is not important. I used my red Knifty Knifty.
Yarn:
This pattern is demonstrated best with a solid color. The texture is somewhat lost when you use variegated yarn. I used Red Heart Super Saver.
Stitch Counter (optional) : 
Not everyone uses them or needs one.  But I use mine almost every time, especially if I have to switch or reverse my pattern every so many rows. Paid less than $2 with shipping and I would gladly have paid more.
Stitch Marker (optional) :
Not everyone uses them or need them. I have mild ADD and can't loom knit without them. I use Rainbow Loom rubber bands.
How to Read the Chart:
Flat Panel read row 1 right to left, row 2 left to right and so on
Round Knitting read all rows right to left
.
Flat Pattern for Double Moss Stitch
.
Multiple of 4. Done in 4 Rows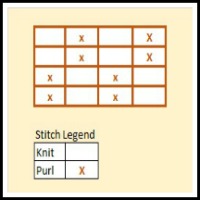 > Row 1: Knit 1, Purl 1
< Row 2: Purl 1, Knit 1
> Row 3: Purl 1, Knit 1
< Row 4: Knit 1, Purl 1
Video Tutorial for Double Moss Stitch
====================================================================
Tagged: free loom knit patterns, loom knitting video, stitch