e-Wrap – The Best First Stitch
e-Wrap, whether to cast-on or knit it is the most important technique you can learn if you want to loom knit. Well, that's my opinion.
Here something to consider, when you buy a set of looms most manufactures will show how to use their product with this stitch. I think they agree with me.
I'll say this, once you learn it you can make just about make anything you can imagine.
Below is a list of step by step instructions which include pictures and text.
To cast-on using the e-wrap method:
Make a knot (slip knot)
Going counter-clockwise, take your working yarn behind the first  peg (the one right behind the anchor peg where you put your knot) . Wrap the peg . Continue doing this until you have gone around the loom twice and have wrapped every peg two times. If you are using 2 strands as 1 like in the picture below you will have 4 loops on each peg.
Note: Some folks push their work down before they start loom knitting. .. I don't, Either one will work fine.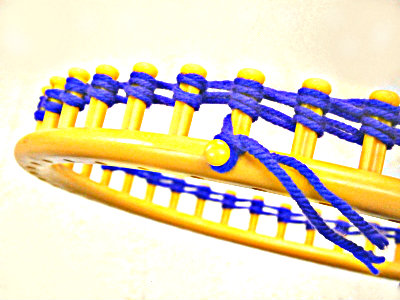 e-Wrap Stitch
Once you have wrapped each peg twice, with your hook pull your bottom loops over the top loops and take them to the back. Unhook from your working yarn. You made an e-wrap stitch.  Now do this for every peg. When you're done with all the bottom loops and you only have the top loops left on the loom, you finished 1 row.
Get your working yarn and start wrapping all your pegs again. You always need a loop on the bottom and one on the top on each peg to loom knit.
Problem:This stitch does have an ugly side effect and its Loose Loops. But not to worry there is a solution: Click HERE

Easy Video Tutorial – Shows you the e-wrap cast-on and stitch
As always I recommend that you watch the video from beginning to end. This will help you understand the instruction in a complete form and will allow you more confidence that the task is doable.
If you like this video and you want to know when a new one is uploaded Subscribe !
e-Wrap – Free Patterns
For More Free Patterns
You will find a lot more e-wrap only patterns in our Projects Page just: Click Here
===================================================================================================
Tagged: ewrap, loom knitting, stitch