Farrow Rib Stitch Scarf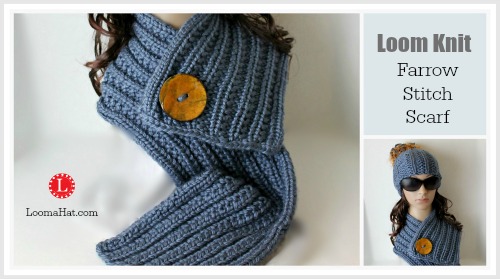 The loom knit Farrow Rib Stitch Scarf pattern is great for both men and women, whether 5 years of age or 50. It's classy and casual with a great reversible stitch which happens to be one of my favorites among the variations of the original rib stitch. Made up of the usual favorites. You know the ever-present knits and purls.
The easy pattern is below and not to worry if you're still concern about following a written pattern because you're a beginner scroll down the post to find an easy to follow step by step video tutorial.
The supplies do not have to be identical but should be as close to it as you can get. Making drastic changes can create a very different fabric then the one pictured above and below.
Pattern Supplies
.
Loom: Any large gauge loom with at least 23-pegs. I used the 5/8 gauge Knifty Knitter Extra Large Round Loom. Use more pegs for a wider scarf. Keep in mind that the stitch has a multiple of 3.
Yarn: 160 yards of Chunky yarn. I used Lion Brands Hometown USA Super Bulky # 6 in Color 108 Washington Denim 
Hook: Any Loom Hook. I Used the Knifty Knitter with a rubber grip.
Needle: Any Yarn Needle. I Used a Susan Bates Yarn Needle
Crochet Hook: 9 mm. I Used Susan Bates. 
Button: This is optional and all about you. I used 2.5 inch / 65 mm Coconut Button
. 1 Swim Suit Bra Hook
Farrow Rib Stitch Scarf Pattern
.
Pattern Notes:You will be using the U-wrap version of the knit stitch throughout the Farrow Rib Stitch Scarf pattern. I used only 23-pegs to make sure anyone even with the smallest of looms could create this very elegant scarf. This number of pegs gives you an 8 inch width once you block the fabric. You can show off this beautiful stitch much better on a wider surface and would suggest using additional pegs. Keep in mind that the stitch is a multiple of 3 +1. Personally, I do however prefer this width for men. In that case I say knit the height of the man standing.
The Pattern is Free on This Website. To Purchase a Downloadable PDF: Click HERE
Cast-on: 
Wrap 23-pegs
1 Row of the U-wrap knit.
.
Scarf:
Note I prefer to slip (skip) my first stitch so for Row 1 I start with 2 Knits and for Row 2 I start with 1 Knit. You do not need to do this, you can follow the pattern exactly as written.
Going from right to left Row 1: Knit 3, *Purl 2, Knit 1; rep from * to last 2 stitches, Knit 2
Going from left to right Row 2: Knit 2, *Knit 2, Purl 1; rep from * to last 3 stitches, Knit 3
Knit Rows 1 and 2 until you have your desired length. I had a total of 150 rows.
Bind-off:
Make the Matching Hat
Click the Picture for a link to the Pattern and Video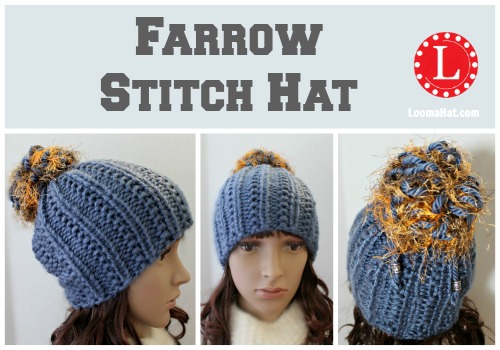 .
Video
.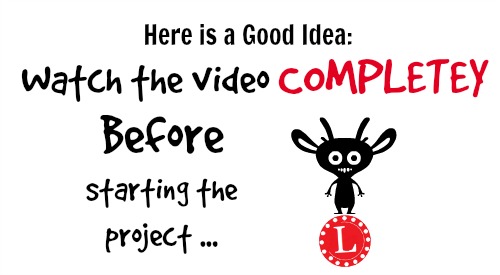 To Subscribe to my YouTube Channel: Click HERE
To Purchase a Downloadable PDF of the Farrow Rib Stitch Scarf Pattern: Click HERE
$2.00 Monthly Pattern Subscription: Click HERE
Video on Steam Blocking: Click HERE

.