The Farrow Rib Stitch on a Knitting Loom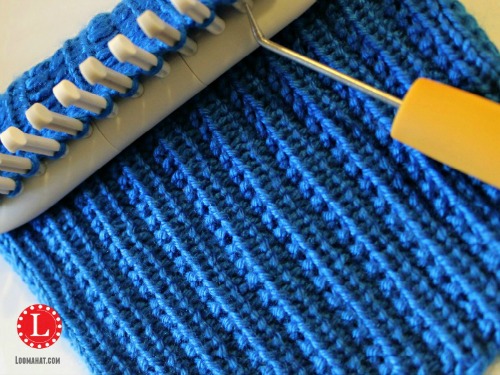 This very simple stitch looks so intricate yet it is made of 2 rows of a 3 stitch combination of knits and purls. I so love this new conversion. The Farrow Rib Stitch will work with any design you have in mind from a hat, a shawl or a even a pair of socks.
As always I give you a Free pattern and video tutorial of the Flat version. The written pattern of the round version is also below but there is no video.
En español: Haz clic AQUÍ 
The Farrow Rib Stitch looks a lot like other versions of the rib stitch, the mock, uneven, mistaken, broken and the Undefined. Those are mostly 4 or more stitches. I find this to be the easiest and that's why I wanted to do this one.
So here is that VERY easy Pattern
The Pattern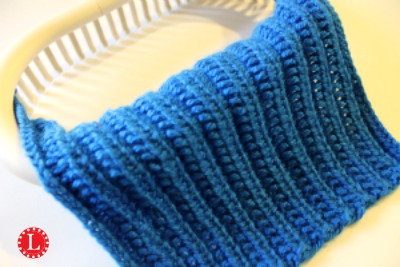 Above is the reverse side of the pattern. I believe it looks as great in any direction which makes it perfect for a scarf  or any other 2 sided project.
This pattern is FREE on this website. To Purchase a Printable PDF Click HERE
You support is greatly appreciated. To get monthly patterns – sometimes more than once per month consider supporting this website by becoming a Patreon Patron : Click for More Info
Supplies:
Loom: Any Loom. Stitch will look best with a small gauge loom.  I used the KB Adjutable Hat Loom
Yarn: Worsted Weight. I used Caron Simply Soft in Royal Blue . Not a good idea to use 2 strands as 1. If your loom is large gauge like a Knifty Knitter – use Chunky yarn.
Hook: Any Loom Hook. I used the KB Hook
Flat Version
3 stitches + 1
Row 1: P, P, K
Row 2: K, K, P
Repeat the pattern as needed
In the Round
Row 1: P, P, K
Row 2: P, K, K
Repeat the pattern as needed
Try a New Hat – Click the Picture for a link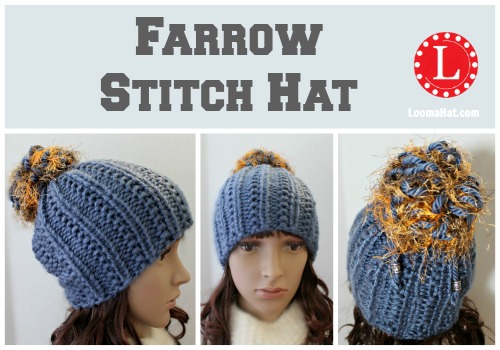 The Video
Although this is a very simple pattern I do suggest watching the video completely from beginning to the end before starting on any project.
This will allow you to feel more secure that the project is doable as well as give you a complete picture of all the steps.
Remember that the written pattern is in both round and flat but your video tutorial is only going to show you the pattern in flat.

.