Loom Knit Farrow Stitch Hat Pattern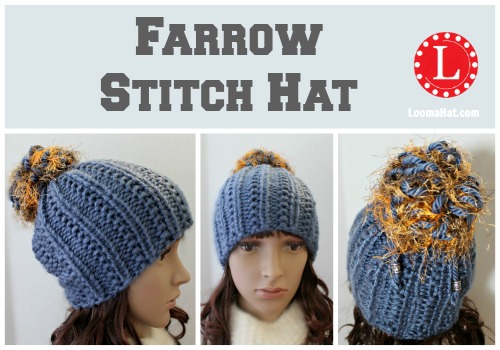 .
This farrow stitch hat has rich texture and warmth. Perfect for a casual upscale look. The pattern appears complex but it is far from it. I designed it for the fans of the stitch pattern I published a few months ago and who had problems using it for their projects. Well here is the hat, stay tuned for the scarf pattern which will be coming shortly.
I hope the farrow stitch hat pattern works well for my friends Jo, Fey, Crystal, Laura, Kim and Linda. See, that I am truly listening ladies. A big hug for the inspiration
Note that I've used chunky yarn so everyone can see the stitch done with a variation. For those new to the site, look below for a picture of the original pattern. To get the written version and to watch a video : Click HERE

Pattern
The Pattern is FREE on the website. To Purchase a Downloadable PDF: Click HERE
Supplies
Loom: Extra Large Round Loom – I used the yellow 41-peg Knifty Knitter
Yarn: 80-82 yards of Chunky or Bulky. I used Lion Brand Yarns Hometown USA in Color #108 Washington Denim. For the pom pom I added the Sensations Cello Eyelash in Chincilla – it is very similar to the  Lion Brand Fun Fur.
Hook: Any Loom Hook and Crochet Hook. I used the Knifty Knitter and Susan Bates with Grips
Yarn Needle: Any Needle – I used a cheap one I got on eBay – not a good idea – Better to use the Susan Bates Large Yarn needles
Markers: Any markers. I use the Rainbow Loom Rubber Band
s because they're tiny and cheap/
Pattern Notes: The pattern is made up of just 2 rows and 3 stitches of the U-wrap knit stitch and the Purl. The loom does not need to be divisible by 3 – just adjust the last few stitches. You can see who this is done on the video tutorial.
.
Cast-on
Wrap all your pegs. U-wrap knit.
.
Hat
Row 1: Purl 2, Knit 1 (Purl last 2 stitches)
Row 2: Purl 1, Knit 2 (Knit last 2 stitches)
Repeat: Rows 1 and 2  – 17 times (Total of 36 rows)
.
Bind-off
Use the Gathered Method
Optional: Tighten Loose Loops
Wet Block the hat for the stitches to show up nicely
To Get the The Loom Knit Pom Pom Pattern: Click HERE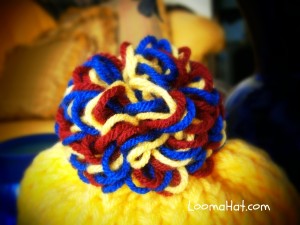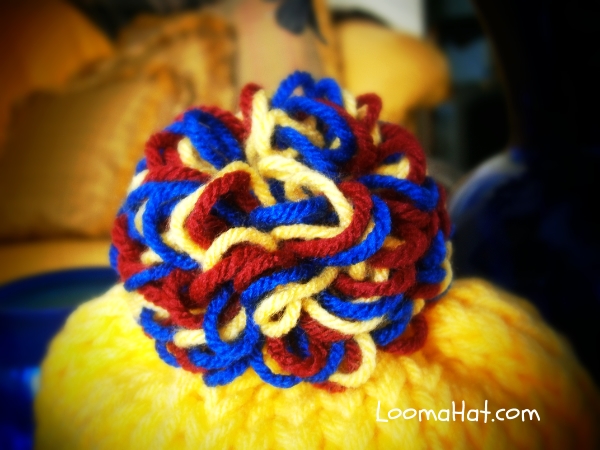 Video
I recommend that you watch the video from beginning to end BEFORE starting the project. This will ensure your sense of security that the pattern is easy and doable and that you won't waste time or supplies.
To Subscribe to the YouTube Channel: Click HERE
To See more stitch patterns: Click HERE
To Purchase the downloadable PDF of the Farrow Stitch Hat Pattern: Click HERE
Tagged: beanie. cap, free, hat, hats, knit, mistaken, pattern, patterns, rib, slouch, slouchy