Flag Stitch Square on a Knitting Loom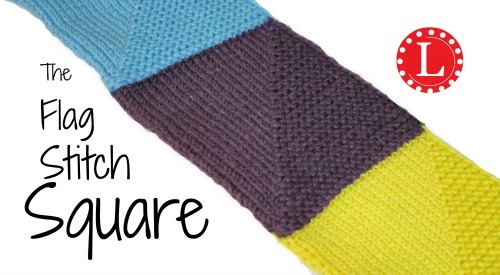 The Flag Stitch Square is a variation on the original stitch pattern that contains rows of tiny squares with angled triangles stacked on top of each other. I wanted the textured effect of the fabric without the extensive work. Easy is always a better option in my world especially because I have a large project in mind, a patch work blanket.
This pattern will work with ANY number of pegs, and any gauge which means that the loom you have on hand is the perfect loom.
The Supplies I Used for My Flag Stitch Square Video
Remember that this pattern is not contingent on loom size gauge or yarn. I'm just giving you my supply list in case you want the same exact dimensions of my square.
Loom: 24-peg Loom Cindwood Loom
Yarn: Approximately 80 Yards of Worsted Weight of Red Heart Yarn – Knit with 2 Strands as1
Hook: Knifty Knitter with Grip
Stitch Markers: 1 Snug – 1 Open 
Pattern Notes:
The feature picture has no purls on the left edge or the top. That pattern will curl. The square in the video has the purl stitch on the left edge and the top to reduce curling.
TO PURCHASE A DOWNLOADABLE PATTERN: CLICK HERE
PDF pattern contains charts and extended notes. If you can not purchase the pattern watch the video which contains the full pattern.
VIDEO: CLICK HERE or Watch it Below