Flat Drawstring Cast Off
The Flat Drawstring Cast Off by Jeannie Phillips is my favorite method of closing a hat. It eliminates that Loom Hat Look you get from the gathered method. Best of all you only need to know the knit and purl stitches to do this technique.
Note the picture on the left. I have knitted the Flat Drawstring cast-off on my basket-weave hat in a different color to make sure you could see the details clearly.
Jeannie is a truly gifted knitter always eager to Bless. She does beautiful work.  I invite to take a virtual trip over to her blog, www.aplaceformycards.com look around and leave a thank you comment. She would love that.
The Pattern:
Note: Pattern is for the LAST three rows of your hat. It works and looks great regardless of the stitches you used to create your hat.
1. Rows 1-3 : Knit 2, Purl 2 to the end of the row
2. When you're done knitting the last row take your working yarn and wrap it around your loom twice then cut your yarn.
3. Put your working yarn behind the 2  knit pegs , thread the yarn through the 2 purl pegs, repeat to the end of the row.
4. With your yarn hook pull the loops off the purl pegs – then pull your yarn string tight – (Don't pull the string off the loom).
5. Now thread the string through the knit pegs – then put the working yarn behind the empty pegs. Repeat to the end of the row. Jeannie recommends that you Pull the string through the first peg again.
6. With your yarn hook pull the loops off the knit pegs. Leave peg 1 for last.
7. Turn the hat inside out. Pull the string slowing but tightly until the hat closes.
Now you know how to do the flat drawstring cast off on your next loom knit hat.
UPDATE: I constantly had an issue closing with this technique and sometimes I wanted a total flat top with out the star.  I modified it a bit. To see the video click the picture.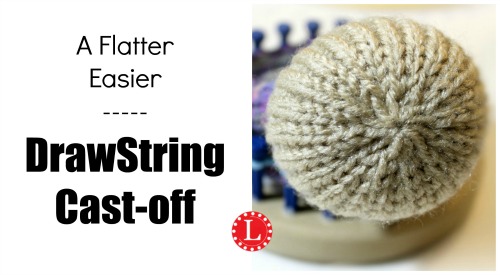 Flat Drawstring Cast Off Video by
Jeannie Phillips
Note: I am not Jeannie Phillips – if you would like to contact Jeannie directly with a question or comment can do so at her website: A Place for My Cards. Questions and comments for me, denise can be left in the comment section below and those are ALWAYS appreciated.
Enjoy the video and as always I recommend that you to watch it in its entirety before beginning the technique. You will feel better and be more effective.
The Flat Drawstring Cast Off versus The Gather Cast Off / Bind Off
I prefer the flat drawstring cast off when I loom knit my hats. However, I would not use this method with a beginner. When I teach loom knitting I always start by teaching my students how to make a hat. It is an easy and practical project. In that scenario the gathering method to me is best because the student is only using the e-wrap stitch. Adding another stitch is best once a person feels comfortable with loom knitting.
====================================================================================================
Tagged: loom knitting