10 Ways to Search for Free Knitting Patterns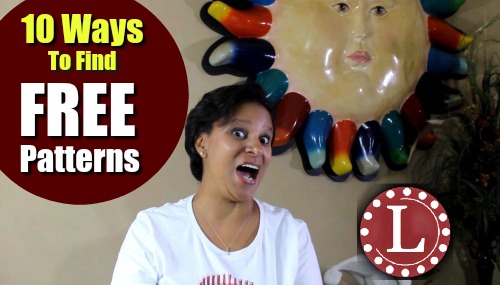 Everybody likes the word Free and knitters are not the exception. We all embark on the quest. But believe or not there is more to the search then just Googling those three key words, Free Knitting Patterns.
In fact the most common method of searching has not always given me the best results. Let me introduce you to 10 methods I have used over the years.
NOTE that this information is not exclusive to loom knitters but instead for everyone that turns knots and flips into treasures.
My Favorite Search Options for Free Knitting Patterns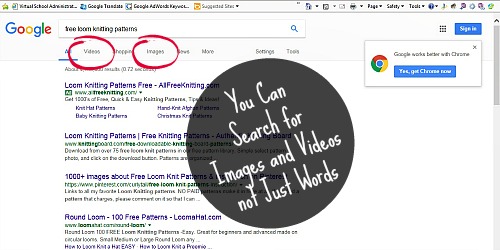 Unfortunately not everybody labels their free knitting patterns well enough to be found by simply typing the right words in a search bar. This is why you have to know several methods of accomplishing your research. Below are just 10 of the methods I use.They're not in any particular order or don't get trapped into thinking one is better than the other. The "best one" is going to change with every project your search. Best to know them all.
1. Word Search on Several Search Engines:  Google it – is the default search. You put the words Free Knitting Patterns and take what Google gives you back without think twice.  But I'm here to tell you that there are more search engines than Google, Yahoo or Bing. Oddly enough even if you enter the same words you may get different results. Also,keep in mind that you can use your current default search engine to look up others.
To see a list of the Top Ten search engines Click HERE
Experiment: Enter the words Free Knitting Patterns into the search bar on the top ten engines and you will see that you don't always get the same results especially if you search past the first page result.
Specific vs Broad Search: The more words the smaller the results. This can be a good thing and a bad thing. If you have time on your side do a broad search and then do a narrow niche search. Here is an example: Free Loom Knitting Poncho Patterns vs Knitting Patterns
2. Image Search; This is a one of my favorite ways to look for free knitting patterns because most of the times I can SEE exactly what I'm getting myself into. I say most of the times because there is such a thing as click bate. It's those links that lead to advertisement instead of the subject you click on.
How to: Under the search bar you will see several options. Among those is the word, IMAGES. When you click that option a listing of pictures will come up. I like this because I can "SEE" what is being offered. As the old saying goes a picture is worth a thousand words.
3. Video Search: You can do searches specifically for a pattern video. Sometimes it's better to use a regular search engine instead of say YouTube or Vimeo because there are times when another source was used for the video. In some odd cases the blog site is hosting the video on their own server. Those videos will only show up when you search say Google, Yahoo or another search engine. If you're using Google you may need to go through several pages before you get an option other than YouTube.
YouTube: Click HERE
Vimeo: Click HERE
Daily Motion: Click HERE
Creative Bug: Click HERE
4. Yarn Sellers: Who ever sells you yarn most likely will also offer you free patterns. They want you to use their yarn to make your projects. Again, a picture is worth not just a thousands words but a thousand salesmen. Here are some examples: KnitPick, Red Heart, Craftsy, Loveknitting , just anybody who sells yarn including small sellers.
5. Manufactures:  Do a search for the tool manufacturer. If you use crochet needles for the company that makes your favorite crochet needles. If they don't have a website – the retailers might and they will usually offer free patterns you can use with the knitting tool of your choice. If you use looms go to the loom manufactures website.  For instance KB Looms has an awesome list of instant downloadable patterns. The layout of the webpage makes searching a breeze.  CinDwood gives a monthly free pattern in their newsletter.
ProvoCraft Knifty Knitter: Click HERE
KB Looms: Click HERE
6. Pattern Designers Website:  Almost every pattern designer I know that has a website has a tab for free knitting patterns. I have tried to use this website to introduce my readers to loom knitting designers that offer free patterns. Do an internet search of your favorite designer by name until you find their personal website or social media page.
Some I really like: Nicole Cox,  Isela Phelps , Kristen Magnus
7. Forums: Ralvery is the BEST by far of any forum especially for loom knitters. I have joined several groups on the site. To take a look at my list: Click HERE
Others include Knitting Paradise , KnittingHelp,  Craftster
8. Social Media: Get social and get yourself from Free Knitting Patterns. My favorite is Facebook Groups (one more time – I LOVE Facebook Groups). There is also Reddit, Google+ and Pinterest. I will say that you have to be careful with click bate on Pinterest which is why Facebook Groups and Google+ are my favorites.
Here is an example of some good ones for Loom Knitters: Little Looming, Loom Knitters Gallery, Strictly Loom Knitting
On Google+ my Favorite Group is: Hangin with my Loomies
9. Online Stores: Craft stores such as Joann.com, AC Moore and Michael's have free patterns. These listings are forever changing. Sometimes there are lots of patterns other times just a few.
10. Online Classes: Providers of online course sometimes give introductory courses that include free knitting patterns. Creative Bug, Skillshare, Craftsy just to name a few.
And Here is an Easy One: Ask your friends that knit.
.

To Subscribe to my YouTube: Click HERE
.