Friendship Bracelet made on a Spool Loom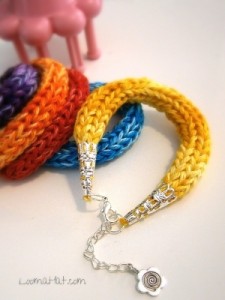 A Friendship bracelet is not just for kids in camp to give each other before they head home.  They are true fashion accessories. The color options are endless. They are cheap to make and I can't imagine anybody not getting a kick out of getting one.
The name alone makes me happy. I love them but couldn't seem to get the hang of making them. I watched few a videos – nothing inspired me. The results were thin bracelets that took way to long to complete. The I found a video on finger knitting a bracelet and something clicked in my brain. I figured out that I could Loom Knit a Friendship bracelet on a Spool Loom.
Everyone who knows me, knows how I feel about loom knitting.  What a great combination. To put the cherry on top I get to show others how to make them.

Supplies Needed:
.
Spool Loom, Hook, Embroidery Floss, Scissors, Measuring Tape, Beads, Glue
Click on the Picture to Purchase any of the Supplies Below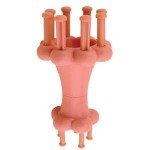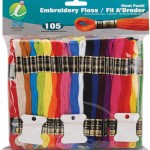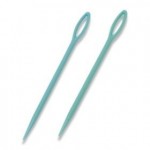 The Pattern:
NOTE: The pattern is FREE on this website
to Purchase a Downloadable PDF: Click HERE
——————————————————————-
Pattern Notes:
You will use the small 5 peg side of the Spool Loom. The smaller pegs work better with the floss. I like removing the bigger pegs on the other side – but you don't have to do the same.
You will use 4 strands of Embroidery Floss and knit together as 1.
Use the Flat Knit Stitch through our the pattern.
Measure your wrist with a measuring tape. For every inch you will knit 6 rows
1. Make a knot to put over one of the pegs
2. Wrap all pegs completely around (e-wrap) – first row
3. Next row don't wrap around just place the floss over the front of each peg like one big wrap. Keep the bottom strands well separated from the top strands
4. With the yarn hook grab the first 4 bottom strands and pull them over the top four strands. Loop them over to the back of peg. Do that with all 5 pegs. You should be left with 1 row of strands on all five pegs. DON'T count the first row it will be loose and you will be hiding this row of yarn (floss).
5. Repeat for the number of rows needed for your wrist – based on 6 rows for every 1 inch.
6. When done use the gathering method to complete and remove the bracelet from the loom. Note that It will look short.
7. Pull and stretch on the bracelet from edge to edge until it almost doubles in length
8. With the yarn hook – shove the loose strings down into the open edge of the bracelet. Using a yarn needle and a matching thread sew the hole shut.
9. With the yarn hook push the edges of the bracelets into the large hole beads. Put a few glue dots with the glue gun.
10. Feed the yarn tails through the smaller beads and tie 2 knots on tail ends.
.
Giving Your Friendship Bracelet Away
Consider Giving Some to a Charity
.
May sound strange to ask that you consider giving friendship bracelets to a charity but there are children in shelters, foster care, hospitals and overseas orphanages that would love a colorful bracelet. Make some pink ones for cancer patients, selling at marathons and giving the proceeds to the organization.
My bracelets will be going to the distribution center for Operation Christmas Child. They will be used to fill the shoe boxes that sometimes come in with very little content.
.
They make great:
Great Custom Wrist Bands
Party Favors.
Marketing Give Aways.
Craft Projects
Holiday Gifts (stuffer) – Easter – Christmas – Hanukkah
Key Rings
Book Marks (use only small beads)
…………… Now you tell me
.
==============================================================================
The ads below are generated by Google and are not a LoomaHat.com endorsement. They are here to help cover cost and keep this website and all of it's content FREE to you.
Check it out – you might get something you've Always wanted.
.

.
Tagged: friendship bracelet, jewelry, loom knit, loom knitting, loom knitting video, spool loom