Garter Stitch Baby Blanket on a Round Loom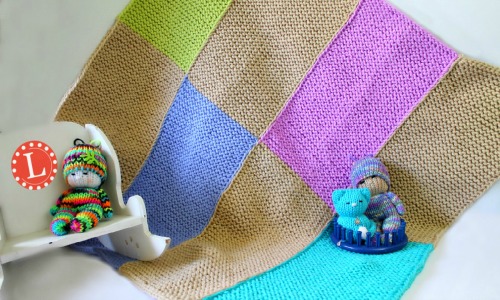 This is my first baby blanket pattern.  I wanted to make sure it was easy enough for beginners and that the supplies were available to everyone.  This pattern can be used to make any size blanket from a small crib to a large bed.
Baby Blanket Basic Pattern
This is a basic pattern the detailed version is available as a downloadable PDF.
TO PURCHASE THE DOWNLOADABLE PATTERN: CLICK HERE
Consider Joining Patreon . For as little as $2 get all patterns posted each month. With a higher $5 pledge you also get the downloadable video so that you don't need to be online to create your project. To join Patreon: Click HERE
I want to thank my Patreon Patrons for their continued support. They make this website possible.
Supplies:
Loom: 24-peg loom. Knifty Knitter was used for the sample.
Yarn:  Approximately 1200 yards of worsted weight yarn.
Hook: Any loom hook. The KB Ergonomic hook was used for the sample
Notions: Locking stitch markers or pins
Stitches: Knit (U-wrap, e-Wrap) and Purl
Finished Size: Approximately 32×34 inches
Cast-on: e-Wrap cast-on 
Row 1: Purl
Row 2: Knit
Repeat rows 1 and 2 until you reach approximately 100 rows. End with a purl row. Knit the next row.
= Change Color =
Row 1: Purl
Row 2: Knit
Cast-off: Modified Basic Bind-off
= Make 3 more panels =
Sew the four panels using the invisible stitch.
Step by Step Video
Watch the video below for more detailed instructions. As always I recommend watching the video completely before starting the project. Through out the video I will give you a lot of recommendations. You will even see some techniques you may have never heard of before.
Don't miss any of my videos. Subscribe to my YouTube channel: Click HERE

Tagged: baby blanket, blankets, garter stitch