Two Versions of the Garter Stitch on a Loom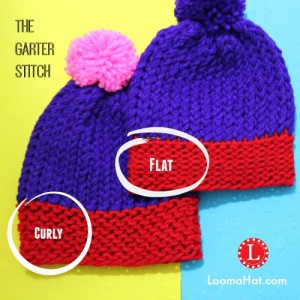 A great stitch for brims and to stop rolling edges on your project is the Garter stitch. But did you know there's more than one way to knit this awesome stitch on a knitting loom. Depending on the version of the Knit Stitch you use you will get a very different look.
One is more a bit of a curvy curly style and I would even say more feminine and the other is more of a flat look. That is the one I choose when I need to add a brim to a man's design or a low-key edge to a square of blanket.
Below is the real easy two stitch pattern and a step by step video tutorial with lots of details just for beginners or those that thought this stitch could only be done one way.
If you know of any additional versions tell us in the comment section of this page.
The Garter Stitch Pattern
Row 1: Knit
Row 2: Purl
What makes the stitch look different is the version of the knit stitch that you use. For a complete explanation of each version: Click HERE
The Curly Version: is done using the e-Wrap version of the knit stitch.
The Flat Version: can be done using any of the 3 other versions of the knit stitch such as the Flat, U-wrap or the True knit sometimes called the Classic knit stitch.  Remember that some versions are a lot tighter then the others. If you're not quite sure which one you prefer read this article for more detailed information on each individual version: Click HERE
The Step by Step Video Tutorial
Please watch the video completely before starting on your project. Doing so makes the you more confident that the pattern is doable.
Don't miss any of my videos – Subscribe to my channel: Click HERE
To see more stitch patterns. Check out the Loom Knitting Stitch Play List: Click HERE
.
.
====================================================================
.