Let's Make Hats for Mongolia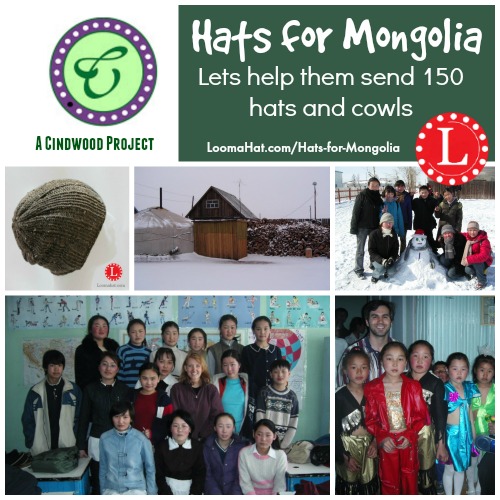 Kristy from CinDwood Looms is collecting Hats, Cowls/Scarves sets for needy kids in Mongolia from May1 to September 1. I'm hoping loom knitters will get some warm dark-colored acrylic yarn, their favorite loom and pattern get all worked up and hook those loops til your pooped. OK that was cheesy.
You guys know what I mean. Here is a chance to make something for someone in need. Let's grab the opportunity with open hands and open hearts.
Mail your contribution to: May 01 – September 01, 2016
CinDWood Crafts
Attn: Summer Service
2305 Ranch Road,
Eagle Mountain, UT  84005 United States.
Email: cindwoodcrafts@msn.com
For More Detailed Information: Click HERE
Kristy has a lot of useful information on the CinDwood Looms blog. I do suggest stopping by the website and read her post. You also get some history about her and this beautiful project. Should you have any questions you can post them at the bottom. If I can answer – I will and if I can't then I'll be sure to get them to her. Her answers will be posted here to helps others that are to shy to ask but have the same questions.
REMEMBER – Although the title says Hats for Mongolia – It should be a set that includes a scarf or a cowl. When shipping I always prefer the cowl. Way easier to make, ship and wear. That's just a personal opinion.
To make a cowl just take your favorite hat pattern and instead of closing the top – do a Modified Basic Bind-off. Tada ! You have a cowl.
Just a Few Suggestions:
Dark Colors (Hide dirt well)
Strong Yarns (Recipients don't have washing machines)
Warm tight stitches. (Temperatures can get below 40 degrees)
Make It a Set if You Can ( Hat and Cowl Set or Hat and Scarf Set )
THANK YOU ! ! !
.