How to Make a Grip for Your Hook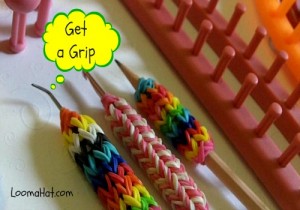 Learn how to make a grip for your hook, pencil or straight tool using any size long knitting loom. two round looms attached or even a bracelet loom. Easy to follow text, picture and video tutorial.
The grip is especially great for knitters with carpal tunnel, arthritis or those that simply prefer a thicker handle. I wasn't sure about adding volume to my small Knifty Knitter hook but after several months of knitting with my chubby hook I have to admit that I love the look and feel. Plus now I can make it what ever color I want or how many colors I want. It isn't purple anymore. Even more important it was a fun project that I really enjoyed doing. Too Cool!
This is Beginner EASY. I would say that a child as young as 6 or 8 years old can handle the work with very little supervision because the steps are few and constant.
SCROLL TO THE BOTTOM OF THE PAGE FOR A VIDEO
.
Supplies Needed : Loom, Rubber Bands, Hook
Loom or Looms:
LONG:  I used a long loom. (BTY – I got this loom as part of a Set of 4 which includes the flower loom for just $10.00 on Amazon – AWESOME Deal : Click Here)
ROUND  If you plan to use a round loom, well you will actually need two. To connect them so that they work like a long loom take 4 rubber bands. Connect the first two pegs (top and bottom) and the last two pegs. Note that you will using 6 pegs in total, 3 on top and 3 on bottom to form a square.
SPOOL: If you have a Spool Loom – use the large end
BRACELET: You can also use the Rainbow Loom or any rubber band bracelet loom that is similar .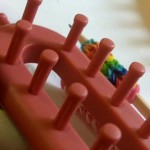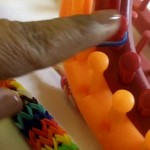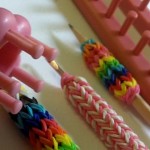 Rubber Bands: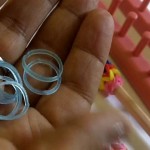 I used the Rainbow Loom rubber bands. The tend to stretch better. In the past I have used the rubber bands for braids but they tend to not be as flexible. But use what ever you have on hand – if only for a test drive.
For a full grip on my Knifty Knitter I used 74 rubber bands.
Hook:
It's best but not necessary to have two hooks. I used the Knifty Knitter and a regular crochet hook.
I only recommend two because I am assuming that you are going to cover the one you are knitting with since you're here to learn how to make a grip for your hook.
Picture Tutorial
Instructions : How to Make a Grip for Your Hook
1. Place your rubber bands on your loom. For the first row make figures 8 with each band forming a square with the six pegs of your loom.
2. For the second row – place them straight across to form a square.
3. When you have the length you want put the hook the middle opening. Push it down and take the bottom loops and wrap them around the bottom of your tool.
4. Do the same for the top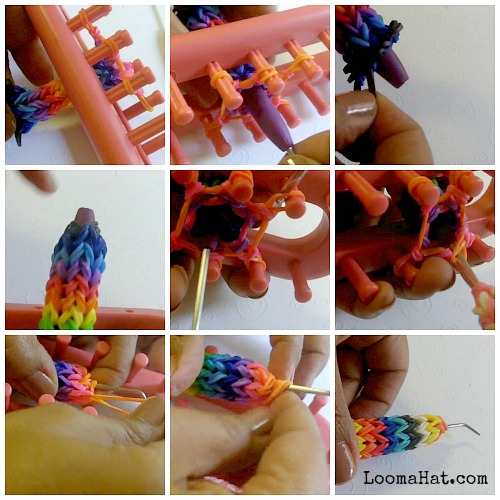 Video Tutorial
Video: How to Make a Grip for Your Hook
I always recommend that you watch the video in its entirety before starting the project. You will feel more confident through out each step if you already know what to expect.
If you enjoy the video PLEASE give it a thumbs up (LIKE) and subscribe to the channel. Both things help me a lot so that I can continue making more videos. If you don't like it please be gracious with your comments.
I hope you learned how to make a grip for your hook or pencil with a knitting loom. As always leave me your comments and questions in the comment section below. Thank for visiting and come back to Loom with Me !
.
Tagged: Grip, kids, pencil grip, rainbow loom, rubber bands