How to Make Pom Poms on a Loom
I learned how to make pom poms on a loom while researching different ways to make this easy but awesome little yarn craft.
I found a video with a person that said she was making yarn bows for gift wrapping. Within a few days the link wasn't working and it seemed that the video disappeared. So I made some adjustments to her pattern and filmed my own video. To me this is a yarn pom pom that can be used as a yarn bow. How's that?
Supplies Needed :
Flower Loom, Hook, Yarn, Yarn Needle, Scissors
You can click the picture to buy any of the supplies:
The Pattern: How to Make Pom Poms with a Loom
Note: I use three strands as one to make the project easier and faster.
1. Make a knot. Place it on the anchor peg.
2. Pull your working yarn completely across and wrap that peg half way.
3. Bring the working yarn completely across and half way wrap the peg to the right of the last one. You should see a criss-cross pattern starting to emerge.
4. Do this for every peg 4 times. You should have a total of 12 loops per peg.
5. With a 9 – 12 Inch matching yarn thread and a yarn needle feed the thread through your work. Leave a tail so that you can make a knots. You will need at least 3-5 knots
6. Pull the pegs off the loom.  Shake the pom-pom back and forth until it take the form you want.
You're Done!
Video Tutorial:
Attach the Pom Pom to Your Hat
*
There are More Ways to Learn How to Make Pom Poms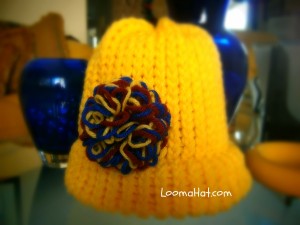 Learn how to make pom poms so that you can put them on your hats. They don't always have to be the on very top.Some times think outside that box and consider the side of the loom knit hat.
Both can loom really good. Give it a try,
If you want to learn other ways to make pom-poms:  Click here
// ]]>
Tagged: flower loom, loom, pom pom, pom-poms, yarn, yarn crafts