Interrupted Rib Stitch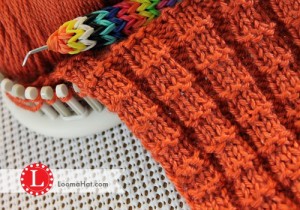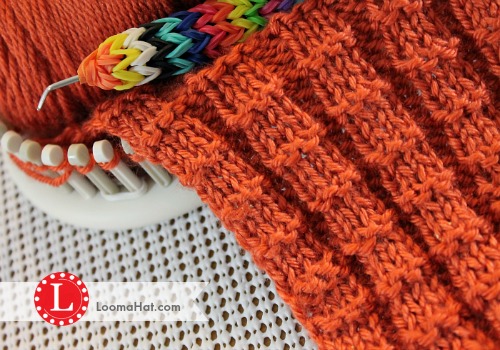 This stitch also known as the Thermal Stitch does exactly what the name says, you have some stitches getting in the way of your regular rib stitch. It's easy, looks good on both sides and works well for both men and women, what more can you ask for out of knots and yarn.
I am giving you the pattern for two Versions. The regular thinner pattern and my wider modified creation. My plan is to make a scarf for a man and by the time I get to that pattern I might just change things up a bit but in the mean time here is the pattern and video tutorial for the Interrupted Rib Stitch.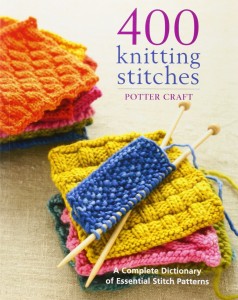 I have converted this stitch with some help from a pattern that I found in 400 Knit Stitches by Potter Craft. The book is a treasure trove of stitches, but you know how to needle knit or how to do conversions from needles to looms. It does help that the book has stitch charts. If nothing else it helps with figuring out the name of a stitch pattern.
The NewStitchADay.com  website is another great source but again like the book it is only for needle knitters. However, sometimes just by looking at the fabric I can get some idea about the pattern.
But this busy thin pattern was not what got me wanting this stitch. My hankering started when I first saw a picture of the Boyfriend Scarf on Pinterest and followed that beauty to Sew-Wrong.com
It looked rich and manly. I'm not sure whether it was the stitch or the really good photography but I was quickly enamored and on a mission to figure out the pattern. Now the knitter calls it the Thermal stitch and that is what I was hoping to find. An image search on Google was what helped with the name I now use, The Interrupted Rib Stitch which is the most commonly used term whether a simple version a thicker wider type.. For Her Pattern: Click HERE
This original stitch pattern looks very nice with the right yarn. The scarf  to the left by Knitspot.com reminds me of a subtle Waffle stitch without a lot of depth.  I liked it very much but the knitter did not give a pattern. She does however let you know that she is using the Interrupted Rib Stitch and is nice enough to show you both side. I am assume that it is the original version. Note that her's was done with needles.
I was most happy about was  to see the use of a variegated yarn because it lets me know that even when a solid is not used you can still see the detail in the pattern very well.
To See More by Knitspot.com: Click HERE
The Pattern : 2 Versions
Pattern Notes: 
Loom: Any loom will work, round or long.  I used the KB Adjustable Hat Loom  as a Small hat in the 1/2 gauge setting for the sample in the pictures and on the video.
Gauge: 5 stitches and 7 rows for 1 inch ( Approximately)
Yarn: If using a large gauge loom such as the Knifty Knitter or Boye use Chunky yarn .I used the Canon Simply Soft in Pumpkin
Stitches: True Knit and Purl
Pattern is FREE here on this site – To Purchase a  Printable PDF: Click HERE
.
Regular Interrupted Rib Stitch Pattern (not pictured):
Row 1: Knit 1, Purl 1
Row 2: Knit 1, Purl 1
Row 3: Purl
Row 4: Purl
My Modified Version Flat:
I believe this pattern resembles the Boyfriend Scarf's Thermal Stitch the best.
Row 1: Knit 3, Purl 2
Row 2: Purl 2, Knit 3
Row 3: Knit 3, Purl 2
Row 4: Purl 2, Knit 3
Row 5: Purl
My Modified Version in the Round:
Row 1: Knit 3, Purl 2
Row 2: Knit 3, Purl 2
Row 3: Knit 3, Purl 2
Row 4: Knit 3, Purl 2
Row 5: Purl
Video
As always I suggest watching the video completely before starting the project. I hope you guys enjoy this video and remember that we are on a Weekend Stitch Series. The Interrupted Rib stitch is the third. Check out the Stitch Playlist on YouTube to see the stitches you've missed: Click HERE
To stay Connected: SUBSCRIBE !
.

.
Some of my Favorite Loom Knitting Books
====================================================================
Tagged: loom knitting, looms, rib stitch, stitch, stitch pattern, stitches