Kid Knits
Kid Knits is extremely special. They put together loom knitting craft kits just for kids. But the story doesn't end there.
I was introduced to Kid Knits by KnittingRaysofHope.com , a cancer awareness group that loom knits hats. They posted an article on their website when the two decided to partner-up. Clearly a match made in heaven.
I love loom knitting and get excited when I know someone is working to introduce this art to young people. I immediately went to the website to find out about the product and the folks behind this awesome concept. In less than 10 minutes I placed my first order. The idea was that I would wait to receive my kit to do a product review and give others a chance to know about Kid Knits Kits. But by divine intervention I clicked the Blog link on the menu bar and read about Ellie. I decided then and there that I couldn't wait for the product to arrive to tell you about the people involved in putting these kits together. You will be as Wowed about them as I am. I promise.
The Founder of KidKnits.org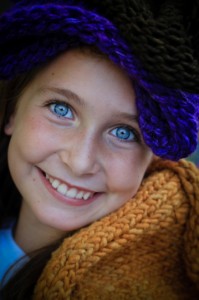 Ellie was 9 years old when is founded Kid Knits after meeting a women from Rwanda. Here is the story in her own words.
January, 2011
Dear Friends,
Hi, I'm Ellie and this is my story of how I thought up and started Kid Knits. My mom and dad brought Immaculee Ilibagiza to Austin last year and I started thinking really deeply about Rwanda. Immaculee is from Rwanda and she seemed special to me because, even though she is from Rwanda, she still seemed like people I knew. She was not any different. I started thinking that if people in Rwanda aren't any different than you and me, they should be able to have food and go to school just like us. I didn't know that there were kids in Rwanda having to get up and work all day instead of go to school. Last year, my mom also met a lady named Diana Wiley who works for True Vineyard Ministries. She works with widows and their families in Rwanda. I learned about how they had merino sheep and were making yarn from the wool.
I had learned to knit the past summer when my best friend's mom taught my Girl Scout troop how to knit on a round loom. I thought it was really fun and I made hats for everyone in my family. I was in the car this past summer on a road trip with my family. My two sisters were asleep and I thought this would be a good time to share my idea with my parents. I said that maybe if True Vineyards would give us yarn, we could knit hats and then give them money. The conversation went on and on and we figured out that instead of knitting hats, we should sell knitting craft kits so that you and your friends can learn to knit.
My knitting craft kit is for people of all ages. They are perfect birthday presents, wedding presents, and other kinds of presents. Think about it, if you buy this nice and fun craft kit, you can help someone's family go to school and eat food on the other side of the world. I think that's great. I hope you have as much fun knitting as I do!
Love,
Ellie
Note: Today 50 families in Rwanda and Chile have dignified employment that allow them to care for themselves and their loved ones. Thank You Ellie for Starting Kid Knits!
The Spinners
Kid Knits gets the yarn that they include in their kits from True Vineyard Ministries. Here is a snippet from their website:
Because we have a heart for the most vulnerable, we are prepared to welcome each widow along with her own unique healing journey before her. Many are rape survivors from the 1994 Genocide, are suffering from HIV/AIDS, and have experienced marginalization, hunger, and lack of other basic necessities. These women are also mothers to multiple children.
True Vineyard Ministries provides counseling to help women heal from their traumatic experiences. The widows have opted to create a savings group to help them create and reach financial goals, save for the future, and provide for their families. Skill-based training is also offered to the women, so they can become professionals in their field, empowering them to take pride in their work for Handspun Hope.
The Kid Knits Kits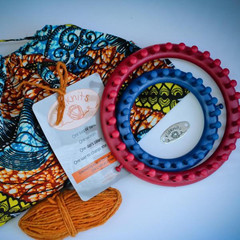 The kits include yarn that is hand-spun mostly by widows in Chile and Rwanda. To the left is a picture the kit I bought.
Below is the website description:
This KidKnits craft kit is perfect if you would like to make a hat for a baby, for a baby doll, or for other small projects that may not need so much yarn!
The yarn included in this kit is from our partner, True Vineyard Ministries, and is hand-spun in Rwanda. The wool is 100% merino sheep's wool, which is a very high quality, soft wool. This yarn is spun on a drop spindle. Each ball of yarn is 35 yards in length, weighs between 60 and 85 grams, and is enough for one baby or toddler's hat. Kits are available in any of our five colors, and all dyes come from plants commonly found in Rwanda.
Indabo, which means flower, is our orange yarn. It is dyed with Coreopsis flower petals.
Ikigina is our brown yarn, and means brown. It is dyed with Coreopsis flower petals and a small amount of iron compound.
Inturusu, which means eucalyptus, is our yellow yarn. It is dyed with eucalyptus leaves.
Umweru, which means white, is our natural, undyed yarn.
Dejina, is a deep shade of green. It is dyed with a leafy-green vegetable
In addition to the yarn, each kit includes every thing needed to make a hat including
One 8″ round loom (red) and one 6″ round loom (blue)
One knitting hook
One needle
One sustainable, eco-friendly cotton carrying bag for all your knitting supplies, hand-sewn in Rwanda
One personalized gift tag
One KidKnits logo tag, made in Nairobi, Kenya from recycled aluminum cans.
Instructions needed to complete your KidKnits hat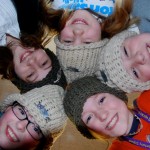 These are more than just craft kits. It's thousands of people in the United States and Europe in homes, schools and church groups who have embraced this a curriculum the helps other to live better lives and as Ellie would say….
" you're never too young to change a life on the other side of the world".
Note: KidKnits.org is a 501(c)3 Charitable Organization
.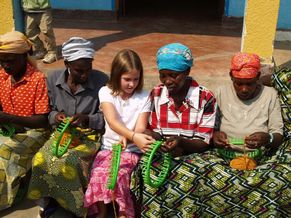 * Here is a Dear Friend Jackie Teaching Kids to Loom Knit for Charity *
===========================================================================
Tagged: kids, kids craft kits