Knit and Purl – the Dynamic Duo of Stitches
Knit and Purl is an awesome combination of two simple knit stitches with incredible possibilities. Depending on the order and the number of repetitions this dynamic duo creates some interesting and beautiful patterns. I use many of the combinations in almost all of my knitting projects. But I must admit that up to now my range of combinations has been the 8 stitches in the Stitch Guide by Isela Phelps.
I had no idea of the number of combinations  available until I found a listing on Loom Knitting Central.  I did a double take when I saw this, I believe there are 110 if not more. What ever the exact number is, I was day dreaming about blankets and hats made with this perpetual list of stitches.
But first lets start with the basics…
The Knit Part of the Combo
There are three ways to knit. All are simple and regardless of your preference they have little effect on the look of the knitting. The difference I would say is in the level of tightness.
I prefer the e-Wrap, which to me is the happy medium.
Mild Variations of the Knit Stitch
1. e-Wrap Knit – complete wrap around the peg twice. Knit the bottom loop over the top loop.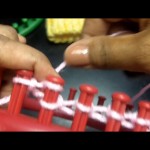 2. Flat Knit – place the working yarn in front of the peg, Knit the bottom loop over the top loop. Note: Can be done like the opposite of the purl stitch.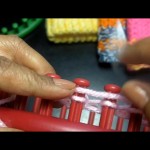 3. u-Wrap Knit – like an incomplete e-wrap, forming a U with your working yarn. Knit the bottom loop over the top loop.
The Purl Part of the Combo
Although the purl part of the Knit and Purl combination is a bit more difficult once you get it – you got it. The rewards for mastering this stitch are astronomical.
I'm a visual learner so I thought a picture tutorial would be a good idea.  If this doesn't help then scroll down to the video.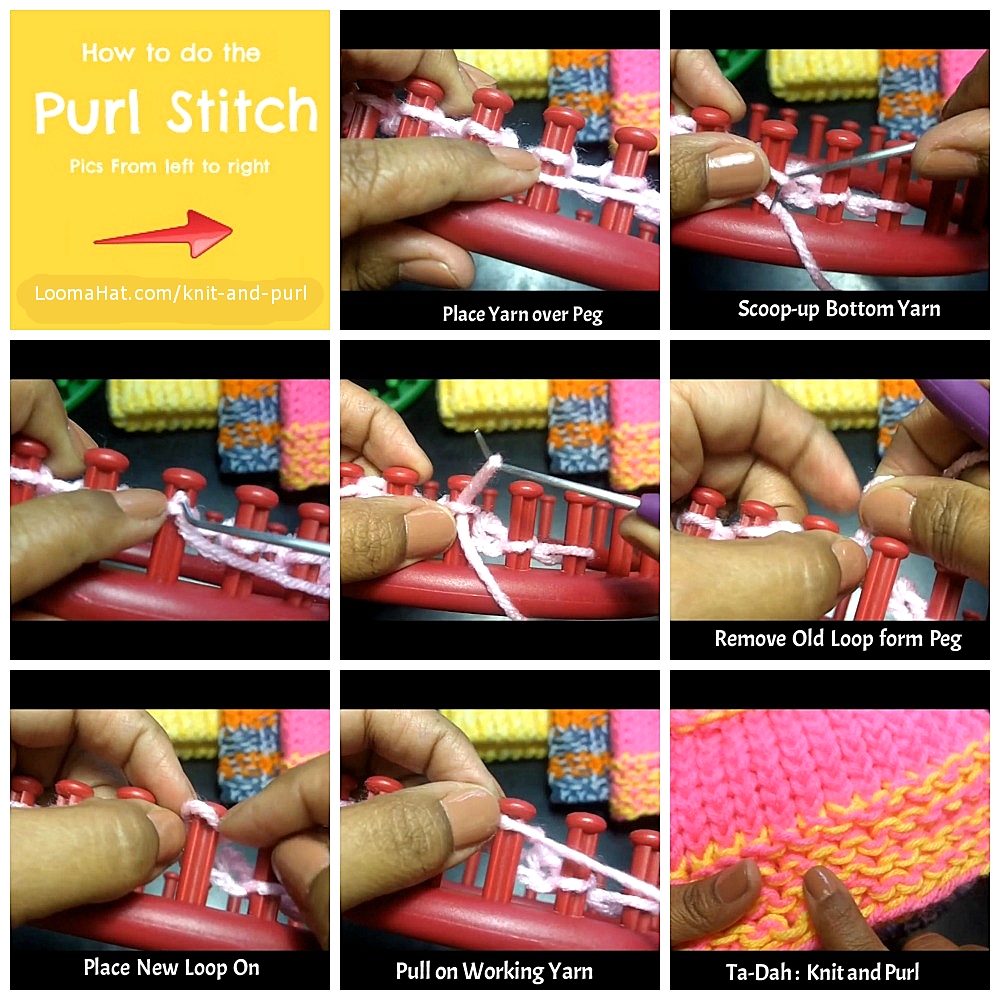 The Knit and Purl Video
Next Step to the Knit and Purl – Using it!
Well it's going to take you and I several years to work our way through the over 100 combinations of knit and purl listed in Loom Knitting Central.
My hat goes out to the person who put this together. I wish I could give you the know.
If you make something with this list, send me a picture so I can share it here on the site.
For now…
For the list: Click Here
===========================================================================
Tagged: stitches