Knit Squares – FREE Pattern for a Perfect Square from Any Shaped Loom
Knit squares on any loom. A perfect square had been my dream for a long time. I had been asked by some students if I could teach them how to make a baby blanket. The best way to make any kind of blanket, throw, afghan on a loom is to knit squares together.  I had made a few that were great on the bottom, terrible on the top. After a lot of bad ones I finally got it.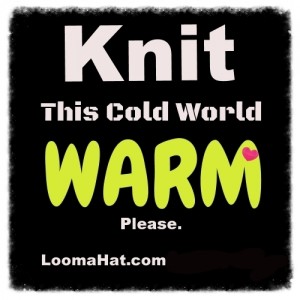 Materials: Any loom with at least 23-pegs, yarn ( recommend worsted weight ) , yarn hook, scissors, yarn needle, crochet hook, measuring tape or ruler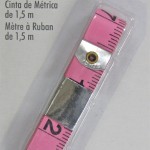 Stitch Skills Needed: Knit and Purl (Garter Stitch),  Crochet Cast-off
Video Tutorial for Stitches: Below

Important Note :  Unless you use very thick yarn it's best to use two strands of yarn as one. You will Knit (e-wrap stitch) the first and last peg on every row, even when you're on a purl row. When you turn directions (you're knitting a flat panel so you have to turn back and forth) you will skip (slip) the first peg (do not knit).
Cast-on: Wrap 23 pegs tightly
Row 1 : Knit all pegs – Recommendation: use the Flat Knit Stitch for the first row – any Knit Stitch is fine after that.
Row 2 : Knit first peg , Purl next 21 pegs , Knit last peg
Row 3 til End : Repeat Rows 1 and 2  (Garter Stitch: Knit 1 Row, Purl 1 Row) until you reach 8 inches. Use a measuring tape to measure your progress as you knit.
Last Row:  Crochet Cast-Off.
Knit Squares – Video Tutorial
Note:  For 8 inches you will need to knit between 27-31 rows depending on the yarn. See the picture below shared by Lucy Wallace for the Charity, Knit a Square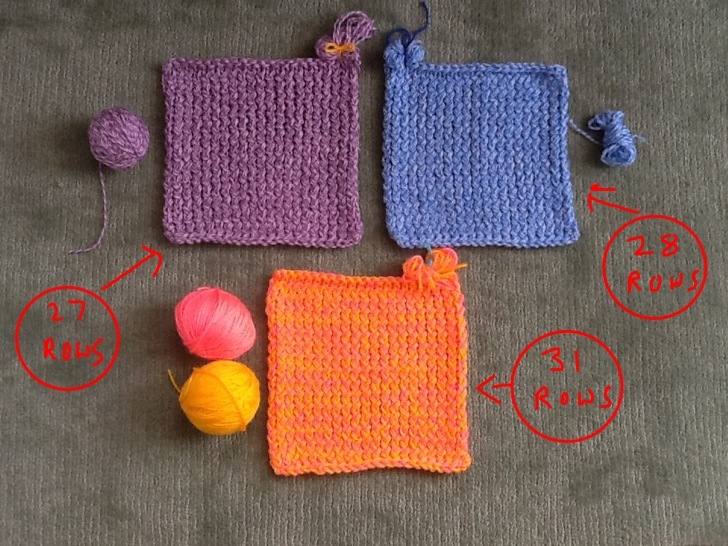 Per Lucy: For the lilac and purple squares, I used two strands of the same colour. On the orangey coloured one, I used a strand of yellow and a strand of orange. I have also marked the photos to show the number of rows I knitted for each square to get 8 inches. You'll see that the orange and yellow one needed more rows because the yarn was economy standard, whereas the lilac and purple yarns were thicker, so fewer rows were needed.
Projects you can make with Squares: Blankets, Lap Blankets, Throws, Afghans, Table Cloth,  Dish Cloths, Clothing like Shawls, Vests, Skirts and Dresses
Charities that Need Your Squares
* Help Me Keep this List Current and Long *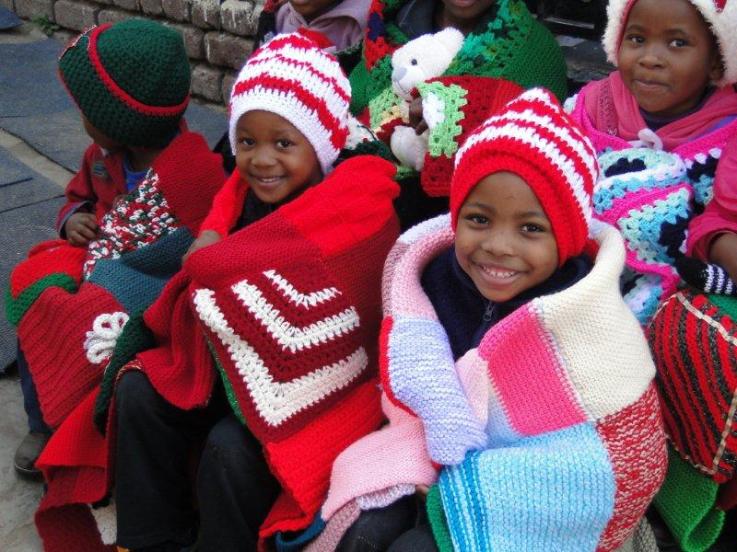 Knit-a-Square: For HIV and Orphaned Children in South Africa
We invite you to join our warm and friendly KAS community. Together we work hard to help warm and comfort these children and we would greatly value your contribution to this knitting project for the AIDS orphans of southern Africa
For Website Link: Click Here
….. Loom Knit Group for Knit a Square: Click Here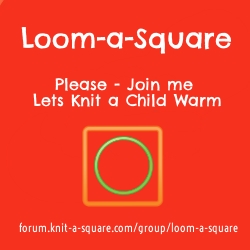 .
**********************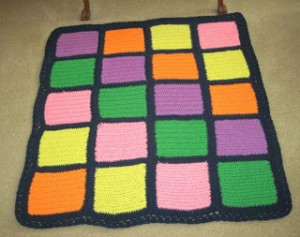 Collect squares for their "Welcome Home for Families Foundation" Project that provides homes to the Homeless in Ohio
Our mission is to warm those in need through knitting and crocheting, and quilting. Our hand-made items provide hope to those living outdoors and those in temporary shelters. We provide for Men, Women, and Children in Central Ohio all year-long.
For Website Link: Click Here
.
************************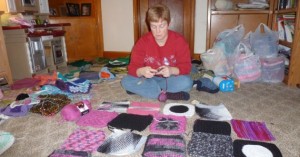 Love-Squared
is a volunteer based organization making afghans for our country's homeless children. Our mission is to provide some comfort, warmth and a lot of love to our homeless children. Starting local with Ohio and Michigan until we get enough people to help our country's homeless children. For Website: Click Here
.
**********************************

Find them on Ravelry; Click Here
The Lakota children and their families living on Pine Ridge Reservation need items like slippers, socks, hats, scarves, mittens, gloves, sweaters, and blankets.
These are things that most of us take for granted but the children need them just to make their daily lives bearable. The children come in all sizes and ages (newborn to high school ages)
Squares 6 inch, 8 inch and 12 inch
Leave a 12" tail on cast on & bind off for easy seaming
Please add some yarn and a tapestry needle to sew the squares together.
Place a notation on your package – For Elder Blankets.
Please mail to this address:
via United States Post Office:
Oglala District Service Center
P O Box 289
Oglala, SD 57764
Via UPS or FedEx
Oglala District Service Center
147 Main Street
Oglala, SD 57764
===================================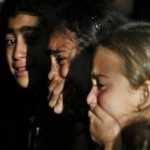 Lily- Love in the Language of Yarn
[Copied Directly from Website]
Refugees fleeing Syria urgently need our help. 
Help us make a difference today!
'Lily' is supported by businesses and individuals in Turkey, whether it be donations of yarn, Knitting and Crocheting or transportation of completed blankets to receiving agencies.
'Lily' has no paid employees.  All the good work is done on a strictly volunteer basis.
'Lily' wishes to thank all those private individuals and businesses which support us.  Without you, there would be no 'Lily' – Love In the Language of Yarn.  We work hard for the day when we are no longer needed to help keep Children warm.
I realise the cost of sending items by post especially to Turkey can be costly which is why we are asking for just 3 squares ( of course we'll also accept more). If you could knit or crochet just 3 squares they would fit easily into an envelope and postage shouldn't be too great! (mark the package 'Knitting For Charity – No Commercial Value').
It really will make a difference to a child's life!
Dianne Jones – Founder of  'Lily'- Love In the Language of Yarn.
Address – 'LILY' C/O Dianne Jones
Türkmen Mahlesi
Ünlü sokak No 10 D4
Kuşadası
Aydin
Turkey.
We now also have a  branch in Jordan, the address to send squares to Jordan is
'LILY' C/O  A Mencke
P.O. Box  2842
Jubeiha
Jordan, 11941
.
============================================
Put Your Squares Together,  Make a Warm Blanket and Send it to Emily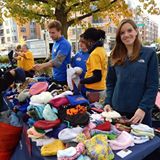 Per the Websites; About Us Page
Emily, from NJ, has been making a difference throughout the world, one hat at a time.

In December 2011, Emily (then 17) realized she could help the homeless & working poor in her community by knitting warm winter hats for them. She created Emily's Hats For Hope Initiative.
Emily is looking for people who knit, crochet or loom who would like to help make winter hats, scarves, afghans, mittens, gloves or baby blankets for the homeless and working poor. For more info:  Click Here
===========================================================================
Tagged: afghans, blankets, free patterns, knit, square, squares