What Beginners Should Know About Knitting Looms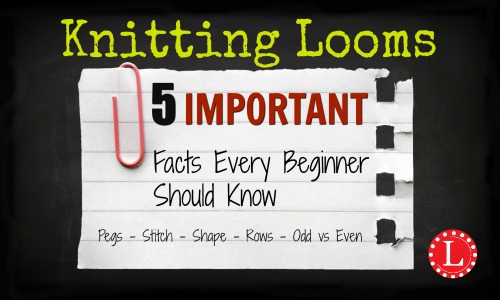 Choosing the right knitting looms for your projects can be tricky. Say you want to know the right loom for a baby hat and you find a pattern that says to use a 30-peg loom can you use your 24-peg? The answer to this question is Yes. Why? Because peg count doesn't decide loom size. A great example are the very popular Knifty Knitter looms. The extra-large Knifty Knitter 41-peg is larger than the 48-peg loom. Is your head spinning? I know you expected a simple answer to the question of whether you could change the loom on a pattern. Read the rest of this post and watch the video below to help you understand this and much more.
A Few Definitions for Knitting Looms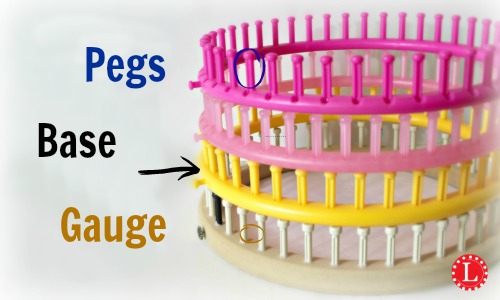 Pegs as Defined by Google: a short cylindrical piece of wood, metal, or plastic, typically tapered at one end, used for holding things together, hanging things on, or marking a particular spot.
Gauge: The space in-between 2 pegs. The closer the pegs the smaller the gauge.
Base: The bottom part of the loom that holds the pegs.
Many patterns, mine included by the way, assume that you are using the most commonly used knitting looms which are the plastic, mass-produced, large gauge looms. Examples are the Knifty Knitter, the Boye, Loops and Threads, Darice and other off-brands on eBay
and Amazon. But that is becoming less and less common. Small gauge looms are needed for detailed and elaborate designs. The shapes of the looms are changing. It begs the questions what do you do when you just don't have specialty looms but you want to knit a pattern –  you convert. Here are some simple concepts I want you to know to help you do just that – swap the loom on the pattern for the one you have on hand.
Note to the Reader: For now, this is just general information and nothing specific.  I'm trying to give you the tools necessary so that you can substitute looms on a pattern even when peg counts change and new knitting looms come into the market.
Peg Count vs Loom Size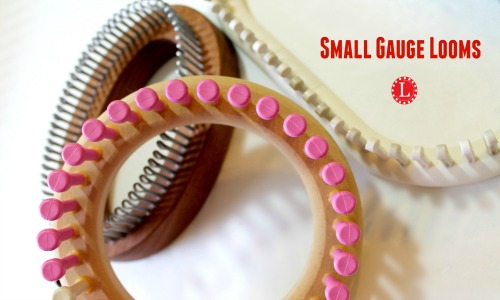 I believe peg count verses loom size is the NUMBER ONE topic of confusion. I know I shouldn't start with # 1 but I did because if you only learn one thing on this post, I want you to understand that a higher peg count does not mean a larger loom nor that the finished product will be larger.
So what does matter? The most important number to factor in when considering the size of your knitted item is the size of the base of the knitting loom. In other words, it's the part that holds the pegs. A loom can just as well have 68-pegs as 24-pegs on the same amount of surface. This just requires pegs to be thinner and the spacing tighter.
In other words knowing the size of base of the loom is more important than the number of pegs. A good example is the dark wooden sock loom in the picture above. That is a 68 peg sock loom by Cottage Looms
. You get beautiful socks from this loom but it doesn't matter that it has 68 pegs, you will never get an adult hat from that loom.  On the other hand the Cindwood 48-peg Purple Loom is perfect for adult hats.
A Quick Trick: Find out the size of the base of the loom in the pattern you are wanting (email the designer if necessary), then measure your loom and if the size is comparable you can use what you have on hand. You may need to adjust the stitch pattern a bit – but that's another post and another video. Stay tuned.
Size vs Stitch

That said, the stitch can totally upset that concept. You can have 2 hats made on the same exact loom, the same yarn,  with the same exact pattern (stitch count – row count) but if you use 2 different versions of the knit stitch one of them can be 2 times the size of the other.
So, it's not always the looms fault your hat is too small. There is something I call the Stitch Effect.
You need to test your fabric. That technique is called, making a swatch. That is nothing more than knitting a small sample of the fabric. Then you measure to see how many pegs (stitches) and how many rows to you need to make say 4 inches of fabric. Yes, this means you have to do some math. It's basic so don't panic.
Here is a sample of a formula for the eWrap knit stitch: Click HERE
Row Count vs Peg Count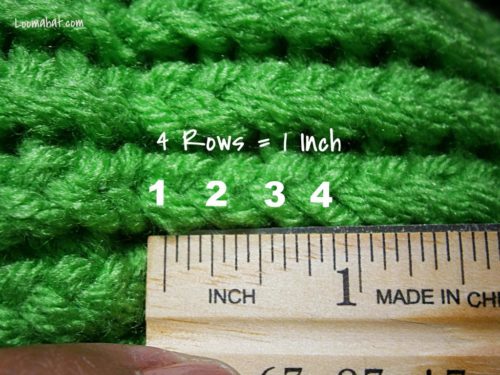 Keep in mind that peg count is the vertical sizing and row count is your horizontal sizing. They are not one and the same. Having the same number of pegs and rows is not necessarily going to give you a square.
Another thing to note – thinner yarn means you will need more rows per inch so of course thicker yarn requires less rows per inch.
Loom Shape vs Product Shape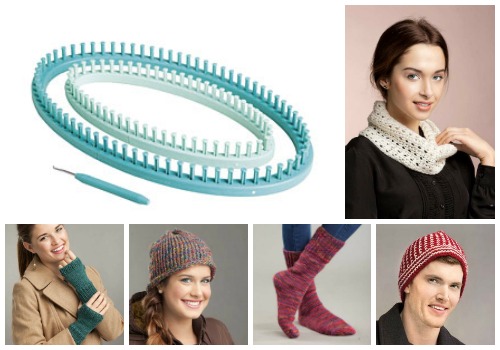 Oval and Long can give you a round finished product and the opposite it also true. You can knit a flat long scarf on your little circular loom. It's all about pattern design. Look at the pictures above. The hats, socks and mittens were done with the oval loom not just the oval-shaped cowl. This can get a bit confusing until you've knit for a while.
For this one I recommend following a few patterns exactly as written until you have captured the concept and then you can start making adjustments and maybe even designing your own patterns.
Even Number vs Odd Number of Pegs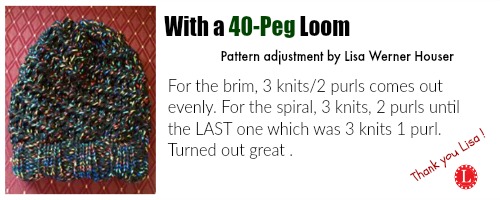 This problem pledges people when its time to do a rib stitch brim. You know, the one with the Knit 1, Purl 1 pattern. Two is an even number so – what to do with that extra peg. I have a simple solution , Knit 1 more. That extra stitch will not be noticeable but if the thought is disturbing just make that the back of your hat.
The understanding that if the pattern calls for an odd-numbered loom you can not use your even-numbered knitting looms is Sometimes wrong.
Yes, there are patterns that require an odd verses an even number of pegs. I don't know of any but it's a big world filled with loom knitting pattern designers. Non-the-less, there are some patterns that can be tweaked to accommodate an even number of pegs.
To see the Spiral Hat Pattern: Click HERE 
The original Spiral Hat pattern was written for the 41-peg loom but our wonderful friend Lisa Werner Houser was nice enough to adjust the pattern to work with a 40-peg loom and make it available to everyone who reads this blog. Thank YOU Lisa !
LAST NOTE:
If you have not knitted with a loom and you're interested in buying your first: READ THIS
.



Tagged: alternative, boye, cindwood, convert, converting, cottage, KB, knifty knitter, knitting board, loom, looms