Knitting with Kindle Fire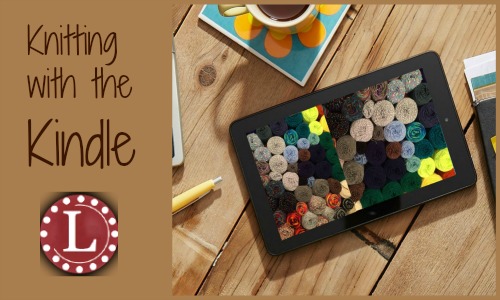 I love Knitting with Kindle. Well I have to admit that personally I'm obsessed with my Kindle Fire which is used everyday for hours on end by me and other members of my family. I own other tablets including an $800.00 iPad and a Sprint Slate that I have to pay $10.00 per month. None of my other tablets are more user-friendly or for that matter more useful in general.
But the point of this post is to tell you how we use it for knitting specifically.
Research:
This is the most useful feature for me personally. I do a lot of research before posting any information or designing any pattern. The tablet can be used for internet surging like any other computerized device. The Google image search is a treasure trove of ideas and inspirations. I even look for color wheels to help me choose yarn colors and presentation.
My Amazon research consist mostly of books, knitting supplies like yarn and looms. Big surprise for most people is the fact that you will find Free Knitting Books and Patterns on Amazon. I don't know that there are any free loom knitting but any knitting book is helpful.
Watch:
We watch a lot of Youtube tutorials. This feature is priceless for me. I can easily just linger there for eternity. So much to learn and so little time to learn it all.
Load Books:
With the Kindle you can have your books available off-line. Make sure you add the more memory with an SD card.
And again there are Paid books and patterns and FREE e-books and patterns.
The Newsstand:
The Newsstand is for newspapers and magazines. Currently there isn't a loom knitting magazine but there are some really cool needle knitting magazines for subscription or single purchase. I like the fact that I can purchase a single issue and that I don't need to commit to a long-term subscription.
Free Knitting Magazine: Click HERE
Entertainment:
I very often watch movies and listen to music while I knit. Yes you can listen to music how awesome is that – I say super awesome.
Apps:
Apps are poor – Not many but I do use a nice simple counter on rare occasions.
Here is a link to the stitch counter app: Click HERE
Knit Companion: Click HERE
Storage Capacity:
The tablet comes in 8 or 16 Gigs. It's not worth the extra $20.00 for another 8 gigs of memory. The best option is to add a 32 gig SD card for just $12.00. This way you can download and keep more information for use off-line.
Very Portable:
Throw it in your bag, it won't weigh you down. Light weight, narrow and thin.
Other Uses: Especially AWESOME with a Prime Membership
Movies – You can watch Netflix, Amazon Prime, DirectTV and more
Music – Free with your Prime membership. This feature I use big time while I knit.
Internet – it uses Wi-Fi to connect to the internet. You are able to surf just like you would on any other device including your desktop or laptop.  Sometimes I use the hotspot on my iPhone if I'm not near free Wi-Fi like the library, McDonalds or Starbucks.
eMail: I pick up my email with my Kindle
Social Media: Facebook, Pinterest, Instagram
and Now includes Alexa!
Cost:
Average $50.00. I got one for my sister during Prime member's day for just $30.00. I get mad when I remember that I paid $800.00 for my iPad which I will never do again. It had a lot of great features, most of which I never used.
No Subscription Needed !
Once you have paid for your Kindle you never have to pay for anything else ever again to use it. Not even Prime. That membership does give you a lot of awesome privileges. Free 2-day shipping, thousands of free movies, free music and free photo storage.
Kindle Fire Group on Ralvery: Click HERE
In Conclusion: We LOVE LOVE LOVE this thing ! It will not replace your desktop but for a $50.00 tablet you get way more than you bargain for.
To Purchase Your Own Kindle: Click HERE
.
Video : Knitting with Kindle
Patron's Kindle Giveaway
Patreon Patron current or past, you can enter to win this awesome little tablet.
PLEASE ONLY ENTER IF YOU ARE A Past or Current PATREON PATRON
If you need more information on how to use the Rafflecopter below: Click HERE
.
a Rafflecopter giveaway

Tagged: kindle, tablets, technology