Loom Knit Ladies Slippers Socks
I was asked by one of my readers about knitting Mary Jane shoes on a loom. I wanted to help this beautiful lady that knits for charity ( I'm a sucker for charity knitters ) as well as the one that asked me for adult booties . I also wanted make a pattern that could be used for the The Pink Slipper Project. By merging those three requests I have come up with a Loom Knit Ladies Slippers pattern and video tutorial quick and easy enough for beginners.
Your main stitch through out this project will be your basic e-Wrap and 2 rows of Flat stitch. There is a little tiny bit of math and an itty bitty bit of sewing. But the kicker.. YOU'RE DONE IN 2 HOURS or less depending on how quick you flip your loops!
Scroll down to the bottom for pattern and video. Let me know your comments and questions in the comment section at the very end of the post. Love, Love, Love questions and comments. ALL are Big time appreciated.
Get your 24-peg loom, hook and  timer. I want to know how long it took YOU to make these cozy ladies slippers.
Ideas for the Ladies Slippers
The Baby Booty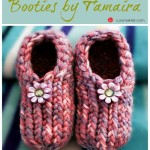 In March of 2015 one of the young ladies from our Facebook Fan page shared a picture of her baby booties. I just loved it. I really think the buttons did it for me. So for this pattern a button was a must have. The question then was where to place them on a Ladies Slippers. On the top like Tamairas or to the side.
She had also made a few mild adjustment to the original pattern which I thought made a huge difference.  I wrote a small post about the story behind her little slippers and her written pattern. To read them click HERE.
Mary Jane Shoes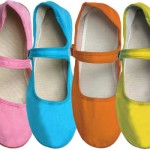 The idea of a loom knit pair of Mary Janes sounded extremely appealing to me. I figured that this simple and cutesy style of shoe lend itself very well as Ladies Slippers.I had seen it before as a needle and crochet project – why not on my trusty loom?
Well I would attempt the project for my loyal readers – wasn't sure what I would end up with as a design. One thing I was forced to eliminate this time was the strap. Will do another design later on to include this detail … so stay tuned.
Ladies Slippers: Supplies, Notes and FREE Pattern
SUPPLIES:
Loom: 24-Peg. I used the Darice knitting loom
Loom Hook: Any hook will work. I used my Knifty Knitter with a rubber grip.
Yarn: 70-90 yards of any yarn #4 worsted weight or above. Make sure that it's machine washable to make life easier. If you use worsted weight knit with 2 strands as 1.
Needles: Yarn Needle and Embroidery Needle ( if adding a button )
Ruler or Measuring Tape: You will need to measure the length of your foot.
Row counter: This is Optional. I used a a Hand Tally. Paid less than $2 and got free shipping.
PATTERN NOTES: How Many Rows ?
First things first: To know HOW MANY ROWS – YOU NEED TO MEASURE AND DO THE MATH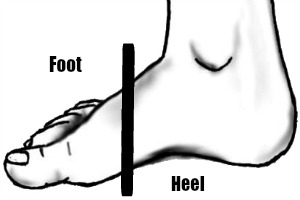 1. Stand up to measure you foot.
2. Divide the foot in 2 parts: foot / heel
3. Measure the foot – Measure the heel
3. Make a notation of the 2 measurements
4. You will multiply every 1 Inch by 4.
Note: There are 2.54 centimeters in 1 inch.
Image Credit: Hayden Family Foot & Ankle Clinic, PLLC
You should have 2 numbers – 1 for your foot and 1 for your heel. These will help you know how many rows for YOUR Ladies Slippers.
MY Example: I'm a shorty with a tiny foot. Mine measures 9 inches, 4 for my foot, 5 for my heel.
The math 4×4=16 (foot) and 5×4=20.(feet).  16 Rows for my foot and then 20 Rows for my heel – BUT…
VERY important: So that your Ladies Slippers don't fit like boats – Subtract 1 inch off (4 Rows) of the foot part.
So for my slippers I knit 12 Rows for my foot and then 20 Rows for my heel. Looks Small – Fit Perfect.
FOR A SHOE SIZE CONVERSION ( US and UK )  CHART: Click HERE
Now You Can Start Knitting
The Pattern for Ladies Slippers
CAUTION: These slippers can be dangerous on some surfaces. See suggestions at the end of the pattern to help them grip better.
The Pattern is Free on this Website. To Buy a Printable PDF through Craftsy: Click HERE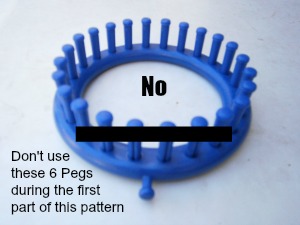 Mark your loom. From the Anchor Peg ( the lonely one sticking out from the base ) count 3 pegs from the right and 3 pegs to the left. You will not be knitting those 6 pegs for now. You will knit 18 pegs as a flat panel.
The Heel
Cast-on 18 pegs: Warp the 18 pegs. Use the Flat Stitch for the cast-on row.
Row 1 for heel : e-Wrap knit 18 pegs
Now continue to knit your flat panel until you've reached the number of rows needed for your heel ( Do the math – see "Pattern Notes: How Many" above )
The Foot
Row 1 for foot:  Now wrap all your pegs including the empty ones. You will use the e-Wrap knit stitch for the ones with 2 loops and the Flat Stitch for 6 more pegs.
Now continue to knit in the round until you've reached the number of rows needed for your foot. ( Do the math – see "Pattern Note: How Many" above )
Cast-off
Use the Gathered Method . As if you were closing a hat.
Now tighten the first row of knitting. This is optional.
Sew-up the heel part of your project. Round of the bottom of heel by folding the pointy part and sewing it flat.
YOUR LADIES SLIPPER IS DONE !
Decorate any way you like.
Suggestions:
CAUTION: These slippers can be dangerous on some surfaces.
1. I suggest cutting out a sole for your slippers out of leather , shoe insoles or stiff felt. Sew or glue the sole onto the slippers. If you used felt add little dots with something like Puffy paint for fabric.
2. Because you will be walking around in these its a good idea to ScotchGard your work. There is a version just for fabric that works well for knit wear.
3. If you plan to add a button. Instead of looking for matching thread – just unwrap the yarn you used (most yarns are 4-ply) and use a 2-ply thread of the yarn with a large needle to sew on the button. Note that your yarn needle doesn't fit the holes of the average button.
The Video for Ladies Slippers
It's a good idea to watch the video completely from start to finish before starting your project. This practice helps you be more confident that the pattern is doable and gives you a heads up on each step before it happens.
If you like the video make sure not to miss out on the next one. To Subscribe: Click HERE

====================================================================
Tagged: footgear, house shoes, loafer, moccasins, shoes, socks, women, womens