The Linen Stitch on a Knitting Loom
I have a new obsession this week and its called the Linen Stitch. It has a very upscale and classy look. To top things off it is VERY easy to do. Below is a picture, text and video tutorial to help you with a pattern that only requires two steps.
This chance encounter began as I was looking for new stitches for my 50 New Stitches by 2016 Challenge that I plan to start soon. If you don't know anything about me – know this – I am a stitch hog. In my quest I bumped into this beauty and fell in love. I especially like the fact that it works for both men and women's wear. Some stitches are just not that versatile. It also has a nice texture that would work well on a dishcloth or wash cloth. Below the stitch pattern is a pattern for an 8×8 square.  Well, without further ado ….
The Pattern for the Linen Stitch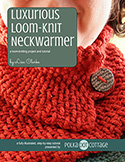 Lost in translation ? No .. this stitch was perfectly translated from the traditional needle knit pattern to the loom by Lisa Clarke  for her Luxurious Loom Knit Neck Warmer. THANK YOU Lisa ! That said, I did make one small change in that I use a different version of the knit stitch. I did this because I used a lighter weight of yarn and I wanted the bumping part to show up more.
She uses the small 24-peg large gauge Knifty Knitter loom and chunky yarn . As you can see, it looks great. Nice rich red tone. I feel warmer already. But alas, its January and 76 degrees here in Florida…. so no chunky yarn for me.
For my giant 8×8 square swatch I decided to use the Authentic Knitting Board's Adjustable Hat Loom in the small 1/2 inch gauge setting and Vickie Howell's Sheepish yarn in the  Chartreuse-ish color. It is a worsted weight yarn. Love this yarn !
If you want to knit a square like mine for an afghan or blanket the pattern for it is below the Linen Stitch Pattern .
THE BASIC PATTERN
To Purchase a Printable PDF: Click HERE
Row 1: Knit 1, Slip 1 wyif  repeat
Row 2: Knit
Row 3: Slip 1 wyif, Knit 1 repeat
Row 4: Knit
You are just flipping Row 1 and Row 3 and putting a row of knit stitches in between the 2 rows.
 Notes – My Change to the Pattern: Unlike Lisa who uses a Flat Knit Stitch I used the e-Wrap Knit Stitch through-out the pattern, only because I found that with the worsted weight yarn the stitch looked bolder,the knitting went faster and with less tension
See the video tutorial at the bottom of the post
.
Pattern for an 8×8 Afghan / Blanket Square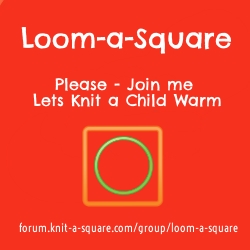 Notes: Just one thing to keep in mind ; I am making it for a blanket so it has no pretty border. e-Warp stitch throughout the pattern. Slip the stitches on the edges.
Loom:  1/2 inch gauge loom. I used the Authentic Knitting Board's Adjustable Hat Loom
Stitches: Knit (e-Wrap), Slip 1 with yarn in front
Gauge: 4 Stitches and 5 Rows = 1 inch (Approximately)
Cast-on : e-Wrap cast-on 32 pegs
Row 1:  Knit
Row 2: K1, *Knit 1, slip 1 wyif  repeat from * to last 2 then K2
Row 3: Knit
Row 4. K2, *Slip 1 wyif, Knit 1  repeat from * to last then K1
Row 5: Knit
Repeat Rows 2 – 5 until you reach 8 inches. My square took 45 Rows to complete.
Bind-off: Basic Bind-off
To correct rolling edges tighten Loose Loops  and  Block your square.
Video Tutorial: Linen Stitch
I always recommend watching the video from beginning til the end before attempting the project. This makes the task easier and makes you bolder on your knitting journey. Feel free to leave me any questions or comments. And if you like the video : Subscribe !
.

====================================================================
Tagged: afghans, dishcloths, linen, squares, stitch, stitch pattern, stitches, washcloths