Loom Knit Baby Blanket with Free Pattern and Video Tutorial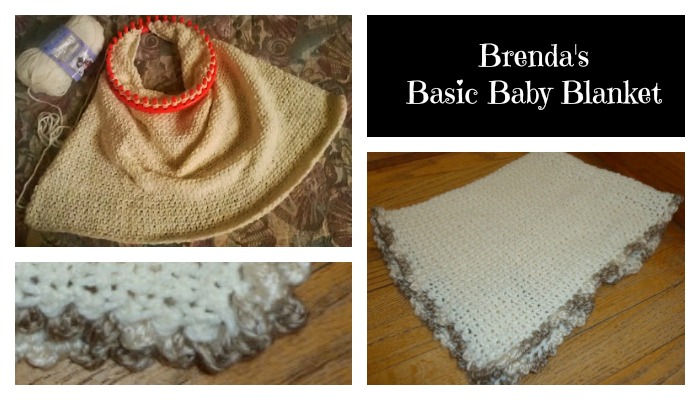 Loom knit baby blanket with beautiful picot edging and measuring 34 inches can made on a 36-peg loom with out the need to sew seams together. That was what I read on Brenda Myers' Loom Lore website. Needless to say I was more than intrigued. I love Brenda's patterns. She is a wonderful teacher. You can find examples of her talent in the book, "I Taught Myself to Loom Knit".  From my experience with this loomer I knew this project would be manageable and beautiful.
The Loom Lady had my full attention.
Brenda is one of my favorite loom knitting teachers. She has such an array of projects on her site it will make your head spin. I was not a bit surprised that she was able to come up with this innovative technique she calls The Double Flat Knit Stitch or The 2-Peg Stitch which is a variation of the Mock Crochet Stitch.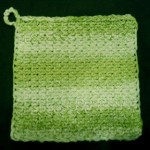 The loom knit baby blanket was not her first time using this stitch. You will find it used on her St. Patrick's day post way back in 2011.
This little lime green beauty is the Irish Washerwomen square named after an Irish jig . You can watch a little video of the dance and get instructions for the little square on her site by clicking Here .
She made it using the Sugar'n Cream Lime Stripes yarn which has a really cool look.
As with any video, I recommend that you watch the Loom Knit Baby Blanket video in its entirety before making the decision that it's to difficult or even before getting your supplies to start the project. Watching the video first gives you more clarity about the project and confidence that it's a doable task.
On this video Brenda shows you how to Cable Cast-on and then how to make the loom knit baby blanket and how to cast-off on a smaller loom. The purpose is to show you the technique not necessarily how to "make" the blanket. This is good because once you have the technique you can customize it to your liking. I plan to make my blanket on the Extra Large 41-peg yellow loom. As Brenda says in the video you can even make a tiny blanket for a Barbie Doll. The possibilities are endless.
The Loom Knit Baby Blanket Edging – The Picot I-Cord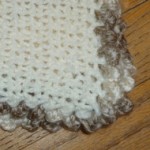 The Picot Edging
This edging is more of an on-project loom knitted I-Cord. It's really pretty and will work well on many of your other loom knitting projects. I plan to use it for a flower and the brim of a little girls hat. It would look great on a knitted skirt or shawl.  Will get you pictures once I finish the projects.
On this video Brenda shows you the technique using a small swatch and a smaller loom. As with the other video this is so that you learn the technique more than to teach you the whole project.
Video Tutorials for the Blanket and the Picot Edging are Above. For the Free Pattern and More Information on Brenda's Too Cool Basic Loom Knit Baby Blanket : Click Here
Hope you enjoyed this project as much as I did. Please stop by Brenda's site and tell her Thanks for sharing this awesome technique.