Loom Knit Minnie Mouse Hat Pattern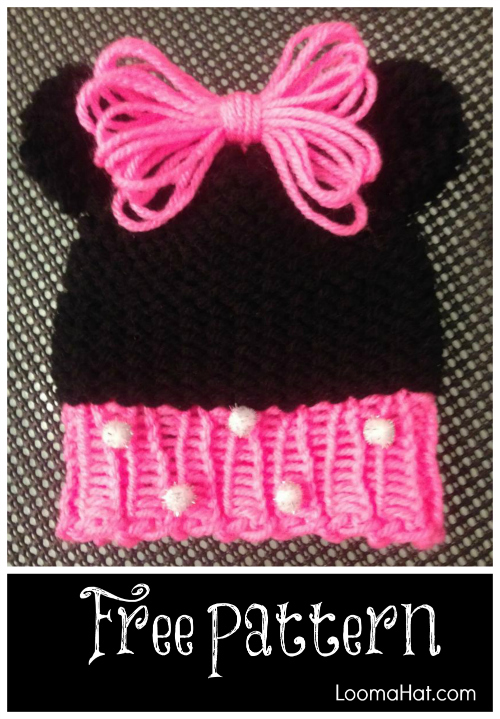 Loom knit Minnie Mouse hat pattern with out the need to loom knit animal ears. For me personally , it has been the number reason I had not done a bear or mouse hat. I found a way around that dilemma which for most people does matter. I tried some Pom Poms and it come out so cute that my 13-year old wants this hat. She happens to be my muse, so that's a good sign. By the way, I don't believe in muses but I like the whole concept anyway. The loom knit pattern is free on this website so give it a try then send me pictures.
This is a pattern for a baby hat but is you want to make it bigger just scroll to the very bottom of the post for a size chart that will help you adjust the pattern for a bigger person.
 En Español: Haz Clic Aquí 
Scroll down to the bottom of the page for a Video Tutorial.
.
Loom Knit Minnie Mouse Hat Supplies
Click the image to buy any of the supplies listed here:
.
.
.
The Pattern: Loom Knit Minnie Mouse Hat
.
This pattern is FREE on this website. To purchase a downloadable, printable PDF of the Loom Knit Minnie Mouse Hat pattern ( Thank You for Your Support ) : Click HERE
Note: I used the U-wrap with for my knit stitch throughout this project.
.
Stitches: Knit, Purl, Garter Stitch, Single Rib Stitch
Yarn: If you want the border to be chunkier especially for bigger hats use two strands of yarn as one.
.
Border
Cast-on – Any Method is Fine – I used the Chain Cast-on
Row 1 -10 Single Rib Stitch
Note: The Single Rib Stitch pattern is Knit 1, Purl 1. Repeat this process completely around the loom per row for 10 rows.
The Hat
Rows 11 – 40 Garter Stitch
Note: Garter Stitch is 1 row of Knit, 1 row of Purl. Repeat the process until you reach the desire length.
For a bigger hat scroll down to the bottom of the page for a size chart.
Close the Hat 
I used the Gathered Method
The Ears
2 Pom Poms. I used the green Medium Size Clover PomPom Maker. If you are going to do a Loom Knit Minnie Mouse Hat for an adult you need the Large Size Clover Pom Pom maker.  I used these tools instead of something like cardboard or my hand because I wanted to make sure that both were exactly the same size. For other ways to make pom poms for free: Click Here
With the two strings each pom pom has left over when you're finished making them, I used a crochet hook to feed the yarn into the hat and placed one pom pom on each side of the hat.
The Bow
I didn't want to loom knit a bow but I wanted it to be made of the same yarn as the border, so this was my happy medium.
I used a cardboard square. Wrapped yarn around the board about 15 times. Grab the whole bunch and pulled them off the cardboard. wrapped yarn around the middle.
With the two strings left over when you're finished making the bow, I used a crochet hook to feed the yarn strings into the hat and placed the bow in the middle of the hat.
Tiny Pom Poms
For the polka dots I used tiny pom poms that I sewed on. You can also glue them on – but I'm a bit weary of that option.
Your Done!
.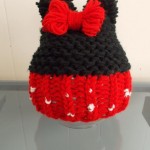 Thank you Jackie Sherman
Jackie shared her Minnie Mouse hat with our Facebook Family and I wanted to share it with you. I love that she made the hat in red (she says she didn't have pink) because it's great to see the pattern in a different color. She also didn't have tiny pom-poms so she weaved white yarn through the red. Result: Too Cute !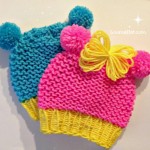 Change up Your Colors
I wanted to see the little hat in other happy color versions and experimented with my favorite color – Yellow. I was so happy with the way these bright almost florescent shades looked.
I thought they were perfect for pair of boy/girl twins.
Some Great Books for Patterns and Stitches
.
Loom Size / Hat Size
Size Chart is based on Averages. The information is only a recommendation. Please use your own judgement in the final decision.

Note: Rows are based on 1 strand of thick yarn or 2 strands of light or medium weight yarn, e-Wrap Stitch and No Brim.
Chart Update: 10/2014
For a Folded Brim you may need 6 - 18 rows depending on the recipient. Note that to make the brim you fold the knitting in half.

1 inch = 2.54 centimeters

Hat Recipient
Avg Head
Circumference
Loom Size
Hat Length
Number
of Rows
AG Doll
11 in / 27 cm
Sm 24 Pegs
4 in
20
Preemie
12 in / 30 cm
Sm 24 Pegs
4 - 5 in
20-25
Newborn
14 in / 36 cm
Sm 24 Pegs
5 - 6 1/2 in
25-30
Baby - 1 yr.
18 in / 46 cm
Md 31 Pegs
7 in
25-30
Toddler
21 in / 53 cm
Lrg 36 Pegs
7 in
25-30
Tweens & Teens
22 in / 56 cm
Lrg 36 Pegs
8 in
30-34
Women & Lean Men
22 in / 56 cm
Lrg 36 Pegs
8 - 9 in
32-40
Lrg Women & Men
24 in / 61 cm
X-Lrg 41 Pegs
9 -10 in
38-45
Video: Loom Knit Minnie Mouse Hat
Tagged: baby, baby cloths, baby projects, characters, Disney, hat, hat patterns