Free Loom Knit Newborn Hat Pattern for Baby Boys
All newborns are babies but not all babies are newborns. Make sense? Well, I say that because this is a loom knit newborn hat pattern for a tiny baby that is less then a month old.  To be more exact I would say no more than a week or two depending on the baby. This is not going to fit the average 2 or 3 month old unless the baby is a preemie. So the purpose of this little hat is for the parents to bundle-up their new little man warmly to take him home from the hospital. To increase the size of the hat for a bigger baby use the medium 31-peg loom and use the size chart below.
I made this pattern specifically for a boy because I wanted to give it to The Period of Purple Crying. It's an organization that is focused on helping to educate people on Shaken Baby Syndrome. According to their ClickforBabies.org website, which is their resource page for knitters they don't get enough baby boy caps. By the way, this is true for most charities. We knitters prefer making girly stuff. So this is my small attempt at leveling the knitting field. To meet their guideline specifications you just need to change the color of the hat to purple and remove the button. There shouldn't be any attachments on the hat. If you like the contrasting color in the middle of the cable you can also embroider a mock button in its place. A circular piece of felt is also an option.
En Español: Haz Clic Aqui 
I hope you like it. If you have any questions or comments about this Loom Knit Newborn Hat Pattern just leave those at the bottom of this post in the comment section. I LOVE COMMENTS!
Supplies Needed
Loom: Small 24-Peg ( I used the Knifty Knitter Blue Loom)
Yarn:  Soft, Washable ( I used worsted weight Bernat Satin in Sandstone (Color A) and worsted weight Caron Simply Soft in Chocolate (Color B). Please don't pick yarn with sparkles for babies even if it is soft.
Hook: Any loom knitting hook
Scissors: Any type 
Loom Knit Newborn Hat Pattern
Very Important Note:  If you are using the recommended soft yarn and you use a large gauge loom like a Knifty Knitter, Darice or Loops and Threads brand, knit with Two Strands of Yarn as One.
The pattern is Free on the website. To purchase a printable version: Click HERE

Stitches:Knit, Purl, Single Cables , Double Rib Stitch (Knit2, Purl2)
.
The Hat Brim
Cast-on: Chain Cast-on
– Start with Color A Yarn –
Rows 1 – 4 : Double Rib Stitch (Knit2, Purl2) til the end of the round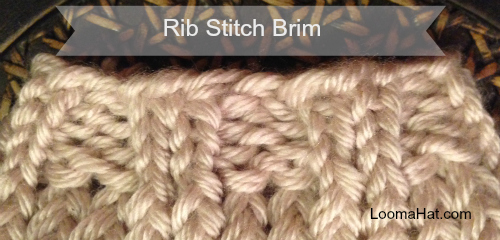 .
Body of the Hat
Rows 5 – 9:  Knit (Use the e-Wrap )
– Change to Color B Yarn) –
Row 10: Purl10, Knit2, Cable Stitch, Purl12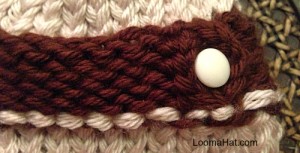 Rows 11 -14: Purl10, Knit2, Purl12
Row 15: Purl10, Knit2, Cable, Purl12
– Change to Color A Yarn –
Rows 16 – 22:  Knit (Use the e-Wrap )
Close the Hat:
Use any you like –  I used the Gathered Method
.
Size Chart
Baby Hat Size Chart

Assumes that knitter is using the recommended 24 peg loom, the e-Wrap knit stitch, Baby soft - worsted weight yarn and knitting with two strands of yarn as one.
Weight
Head
Circumference
Length of Hat
Number
of Rows
>1 lb
4 - 4 1/2
3 inches
12
1-3 lbs
8 1/2 - 9

3.5 - 4 in
13 - 16
3-5 lbs
11 - 11 1/2
4 - 5 in
16 - 20
6-8 lbs
12 -12 1/2
5 - 5.5 in
20 - 22
9-11 lbs
13 -14
6
24
.
Charities to Donate Hat
Please let me know about any other charities accepting newborn hats so that I can list them here.
As always check your local hospital's newborn intensive care unit (NICU).
Tagged: baby, beanie, boy, cap, hat patterns, newborn, preemie