Loom Knit Scarf Made on Any Loom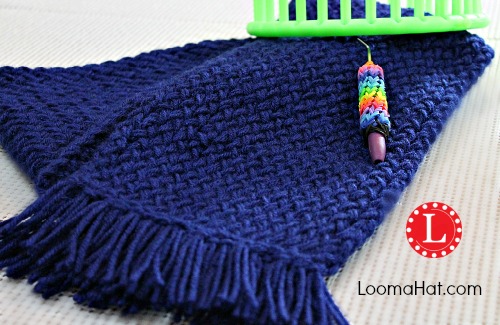 Second only to the Loom Knit Hat, the Loom Knit Scarf is among the easiest and most requested projects for new knitters. This post includes a basic pattern with text, pictures and a VERY detailed step by step video tutorial making it almost a guaranteed fact that will be able to make a scarf even if you have never knitted anything, ever.
After you're done with the scarf, learn to make the hat. Both awesome projects to learn.  Not to mention what a great gift can be made out of the pair. Charitable organizations such as churches and shelters are always asking for that warm combo.
Supplies
.
Loom: Any Large Gauge Loom
Loom Hook: Any version – ( For the Grip in the Video Click HERE )
Yarn: Worsted Weight ( Knit with Two Strands )
Yarn Needle or Crochet Hook
Pattern
.
This pattern is for a scarf that is 6 1/2 inches in Width and 6 Feet Long. Read the notes in parenthesis to customize your scarf.
Cast on: e-Warp Cast on 19 Pegs ( or 3 pegs per desired inch of width )

Knit: eWrap Knit 288 Rows ( or 4 rows per desired inch of length )

.
Bind-Off:  Basic – Done over 2 pegs. Wrap the peg next to the one with the working yarn. We will call that peg #2  and knit off. Take the loop off that peg and move to the one with the working yarn. We will call that peg #1 and knit off. Now take that loop off peg #1 and place it on the empty peg. The peg now become peg # so wrap the one next to it and start the process again.
Modified Basic Bind-Off
To get a nice square and even end you will have to modify the Basic Bind-off. Divide the knitting in three sections. After binding off the first peg, wrap the next 2 pegs and knit-off both. Remove the loop off peg 2 and place it on peg 1, knit-off and then remove the loop from peg 1 and place it on peg 2. Not continue with the Basic Bind-off until you reach the middle of the project then modify those 2 pegs, then do the Basic Bind-off until you reach the 3rd to last peg. Do the modified version then do the Basic Bind-off for the last 2 pegs.
To Add Fringes: Watch the video below
Formula for Number of Rows
.
Note that there are 12 Inches per foot and that you need 4 rows of knitting for every desired inch of fabric.
Multiply the Number of Desired Inches by 4
Example: A 6 Foot Scarf
6×12 = 72 Inches (desired inches)
72×4 = 288 Rows (rows needed)
Video: Loom Knit Scarf
 .
As always I recommend watching the whole video before attempting the project. Makes the task easier to do and gives you more confidence that the project is doable.
On this video you will learn How to
Make a Flat Panel (Square)
Get Clean Edges
Add Fringes

====================================================================
Tagged: flat panel, scarf, scarves, square, squares