Loom Knit Stitches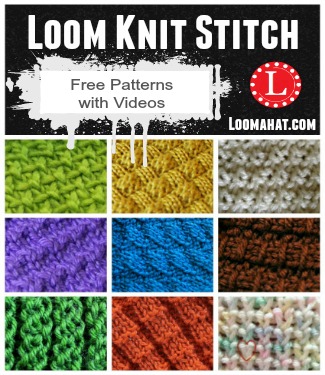 I wanted one page to list all my loom knit stitches. A place that I could update regularly like I do my Video page. Well here it is. You can bookmark it and come back once a month. God willing a new little square with a link to a free stitch pattern with a video tutorial will be added every time you visit,
Feel free to make suggestions and requests. I can't promise that I will be able to accommodate you right away because sometimes I am following a project calendar or I already have a few post and videos that are done. If you know me, you know that I'm a stitch hog so if you introduce me to a stitch I will get to it at some point that's for sure.
HOW WILL YOU KNOW WHEN I UPDATE – SUBSCRIBE TO THE BLOG
There is place on the sidebar of the home page that says, 'Subscribe to Blog via eMail". Enter your name and email and by the way, NO I DON'T SELL YOUR NAME – You will not be joining any other list all you get is an email when ever I do a new post.
For now let's go stitch hunting …
My Looms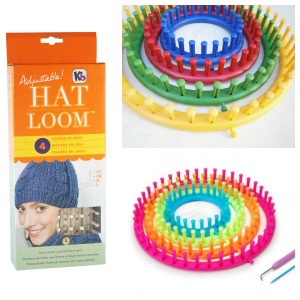 I'm always asked about the looms I use on most of my Loom Knit Stitches video. I have 3 looms that I use almost exclusively for my stitch patterns.
Below I give you links to help you find them on-line with Amazon but check with your local craft store to see if they're available and if they take competitor coupons and check eBay
 for some really crazy deals.
Click to Purchase.
1. KB Adjustable Hat Loom ( I use the most )
2. Knifty Knitter set of Looms
List of Loom Knit Stitches
Again, the list is in alphabetical order and the word, "The" does not count.  Click the links or the square with the picture of the stitch you want to learn. You have the option of the pattern and video or just the video if one is available.
When a video is available, please watch the video from beginning to end before attempting the pattern, I promise this will make a HUGE difference. You will feel a lot more confident that you are able to tackle the task once you know that it's doable.
For a Playlist of my Stitch Pattern Videos: Click HERE
To Subscribe to my YouTube Chanel: Click HERE
How do I Start My Stitches
I'm often asked how I start my stitch patterns. To answer I have written a detailed post with text, pictures and a video tutorial. If you want to know: Click HERE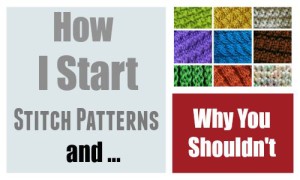 .
Loom Knit Stitches
.
All my patterns on this website are FREE. To purchase printable PDF: Click HERE . Every purchase helps to keep this website up. Thanks !
.
=================================================================================