Loom Lady – Meet Brenda Myers
The Loom Lady is Brenda Myers, author of "I Taught Myself to Loom Knit", pattern designer, and thank God for us loom lovers, she is also a Blogger.
Loom Lore, her personal loom knitting blog is a treasure trove of free patterns and resources. Unless I counted wrong , I believe she had about 75 of the coolest free patterns ever.
I want to share pictures of just some of those patterns and introduce you to my favorite parts of this site.
But if my information is too long, you got ants in your pants and you just want to visit on your own here is a link: : Loom Lore
Did I Mention the Cool FREE Patterns?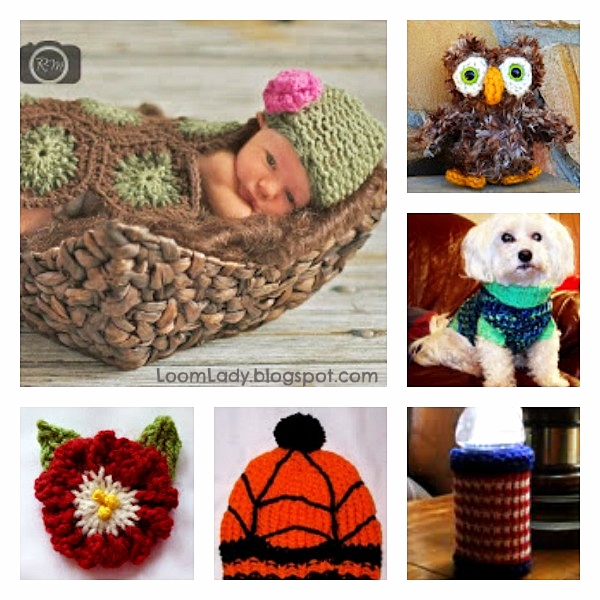 Above are just a very few of my favorites.
I found Loom Lore while I was looking for free patterns for my 100 Free Round Loom Patterns challenge. I contacted Brenda and asked if I could use some of her easy patterns. Wow, what a lovely lady. She emailed me back quick letting me know that it was OK, gave her opinion on some of my writing and was just plain Nice. I'm sorry that I can't say the same about some of the other bloggers I contacted.
I went through her long list and it was hard to choose. I liked a lot of them. One thing stands out immediately, Mrs Myers is a professional. Talk about some beautifully made patterns. They include a legend of abbreviations, clear pictures and very detailed instructions. Reading all the writing with my mild ADD had my brain on overload. I went to looking for EASY.
There was one thing that helped narrow the list and that was skill level. Not all of her patterns can be tackled by a beginner. But don't worry if you are a beginner because her patterns let you know the required skill level on the very top before you embarke on a project
Loom Lady Got Resources !
List of Loom Knitting Blogs and Sites
List of Loom Knitting Techniques
List of Loom Knitting Books and DVD's
List of Online Resources
List of Yahoo Loom Knitting Groups
My Conclusion
Pro: Loom Lady blog is worth the visit. It's got a great library of resources. Her patterns are detailed, the selection is huge and they are ALL free. At least all the ones I saw. If you read enough of her blog posts you can't help but like her. Every one has something to offer. It's not chit-chat about what she ate for breakfast or whether the dog is behaving right. Yet, you get to know about the grand kids and other sweet stuff. The interaction with her readers is so genuine. And… This Loom Lady really DOES answer questions! To many blogs ask for interaction and then leave you hanging with unanswered questions and no response to your comments.
Con: I like video tutorials a lot mostly because I can't concentrate enough if the pattern is too complex. I didn't see any listed on the blog. This might be just a temporary glitch . I hope.
UPDATE 2014 – Brenda now has video tutorials ! Click Here
Two thumbs up for Loom Lady , Brenda Myers
===========================================================================
Tagged: review, website review